Nicki Minaj and Young Thug have hinted that a possible collaboration in coming in three days, so by Thursday or Friday of this week.
Nicki Minaj has been radio silent on social media for the past three months so now that she is slowly coming back, every tweet and every post on Instagram are being scrutinized. This week she posted and quickly deleted twice on Twitter and one of her tweets coincides with the same cryptic tweet from Young Thug.
First Nicki posted and deleted the number 4 and then the next day she posted and deleted the number 3. This may be pure coincidence or most likely coordinated, but last night, Young Thug posted and deleted the number 3.
The Young Money rapper and Thugger have been rumored to be working on a new single. Last month, Young Thug posted a snippet of a supposed Nicki Minaj collaboration on Instagram Story with the simple caption, "Somebody call for the QUEEN." The two rappers have previously worked together on Juicy J's single "Low" and on Rae Remmurd's banger "Throw Sum Mo" but they have yet to work together as the only two artists on a track.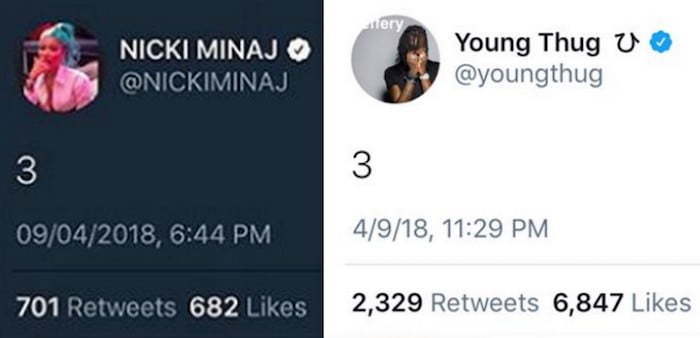 Thug recently changed his name to Sex and later announced that he will not be dropping any new music this year in support of his deaf brother. Nicki, on the other hand, is currently working on her new album and it's coming sooner than later.
The game is currently hungry for Nicki Minaj's next body of work since she hasn't released an album since 2014 when she dropped The PinkPrint following her breakup with Safaree Samuels. That album was dubbed a heartbreak project. It will now be interesting to see what direction she takes her new project. Sources previously told Urban Islandz that she will inject some dancehall in her new album, but as to how much of it will include dancehall, we will see.
Here's a snippet of Young Thug's new collaboration ft Nicki Minaj via Instagram story. "Somebody call for the QUEEN" pic.twitter.com/4LqvpHV1ED

— Nicki Minaj Views (@NickiMViews) March 18, 2018