Rihanna is hitting SnapChat where it hurts the most, their bottom line.
SnapChat came under fire this week for running an advertisement using Rihanna and Chris Brown images without their permissions while making light of domestic violence. To say the ad offended a lot of users is an understatement. In fact, the ad was so offensive that Rihanna personally responded telling her fans to pretty much delete the app. SnapChat was already facing criticism for redesigning the platform back in January. A lot of users including Kylie Jenner, openly shared their disappointment on social media which eventually caused the company's stocks to dip, wiping out over a billion dollars of wealth in a single day.
The company has since regained some of those losses on the stock market but now Rihanna is putting her feet on their necks and its stock price is already feeling the pinch. "Now SNAPCHAT I know you already know you ain't my fav app out there!" Rihanna wrote on her Instagram Story. "But I'm just trying to figure out what the point was with this mess!" the singer wrote. "I'd love to call it ignorance but I know you ain't that dumb. You spent money to animate something that would intentionally bring shame to DV victims and made a joke of it."
Rihanna pointed out that her response is not about her personal feelings, but more about how much the company failed domestic violence victims. "This isn't about my personal feelings, cause I don't have much of them," she continues. "But all the women, children and men that have been victims of DV in the past and especially the ones who haven't made it out yet. You let us down. Shame on you. Throw the whole app-oligy away."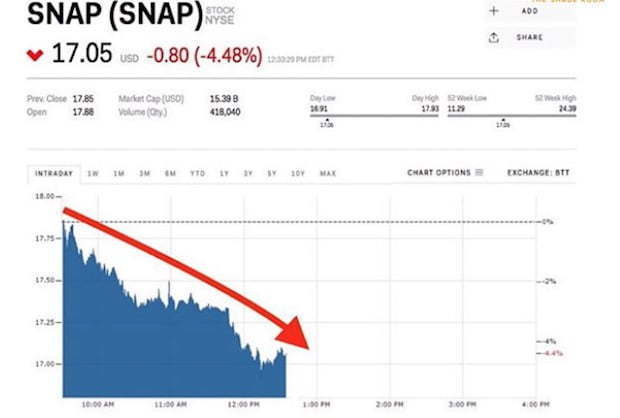 During her lengthy statement, Rihanna didn't mention Chris Brown's name not once. But SnapChat stocks went down four and a half percent a short time after she made the statement. The company also issued a statement saying that the ad was approved in error and they are sorry.