Chris Brown turns an L into a win following a running with singer Vanessa Carlton on International Women's Day.
Chris Brown was giving Carlton some strength on Instagram by posting a video clip from her song "One Thousand Miles" but it backfired on him when she aired him out as a domestic abuser. For years, Breezy has been the face of domestic violence against women following his infamous beating of Rihanna in 2009. Despite trying to turn a new incident has followed him for the past decade and in some cases hampered his career.
Vanessa Carlton didn't appreciate the attention that she was getting as a result of Chris Brown especially on a day where the world is celebrating women. "Today Chris Brown posted my video," she wrote. "I am now being repeatedly tagged to his account. Being that today is International Women's Day I feel compelled to draw a line. I support survivors not perpetrators of domestic violence. I do not want to be associated with an artist that has assaulted women on a day like today. Thank you #internationalwomensday."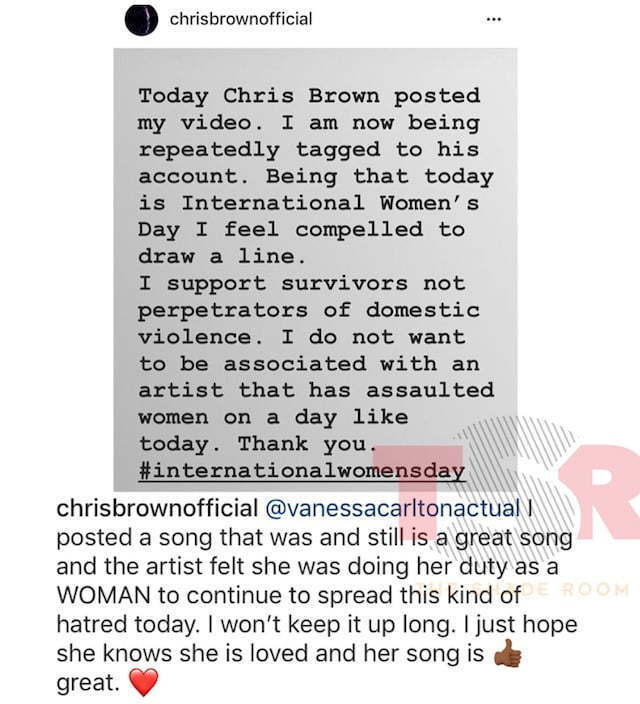 While she has since deleted the video, Chris Brown responded in a very diplomatic way and he is now getting an overwhelming amount of support from fans and even some of his celebrity peers. "I posted a song that was and still is a great song and the artist felt she was doing her duty as a WOMAN to continue to spread this kind of hatred today," the "Loyal" singer wrote. "I won't keep it up long. I just hope she knows she is loved and her song is great."
Chris Brown eventually deleted the post after some fans told him not to give her any more attention. "Why are we still talking about this Chris Brown and Rihanna has made their peace with that situation and is moving on and prospering he can't be redeemed she is irreverent and Chris made her relevant again have a seat sis ain't nobody checking or worried about you, at the end of the day WE don't know what happened in that Lambo that night," one fan wrote.
Breezy re-post this video of the same song from the movie White Chicks.