Tekashi 6ix9ine is feeling the fallout in his career due to his gang affiliation.
The New York rapper recently had a running with rival rappers in Los Angeles and now he is being warned by a violent Texas gang not to go to San Antonio. Tekashi 6ix9ine has an upcoming performance at Bar 23 on Thursday night and some Tango Orejon gang members have publicly issued a direct threat not to show up for the show. This is certainly bad for business as recently evident in LA where promoters pull the plug on some shows he had in that city over the NBA All-Star Weekend.
The gang says they have issued with Tekashi69's sexual misconduct conviction since it involved a minor. The rapper, whose real name is Daniel Hernandez, pleaded guilty in November last year to "three felony counts of Use of a Child in a Sexual Performance." He was 18 at the time of the incident and the victim was 13 years old.
His sentencing hearing is set for next month and a judge has ordered him to get his GED which will be taken into consideration during his sentencing. Similar to the gangs in Los Angeles, the gang bangers in Texas says they don't want Tekashi 6ix9ine in their state because of his guilty plea.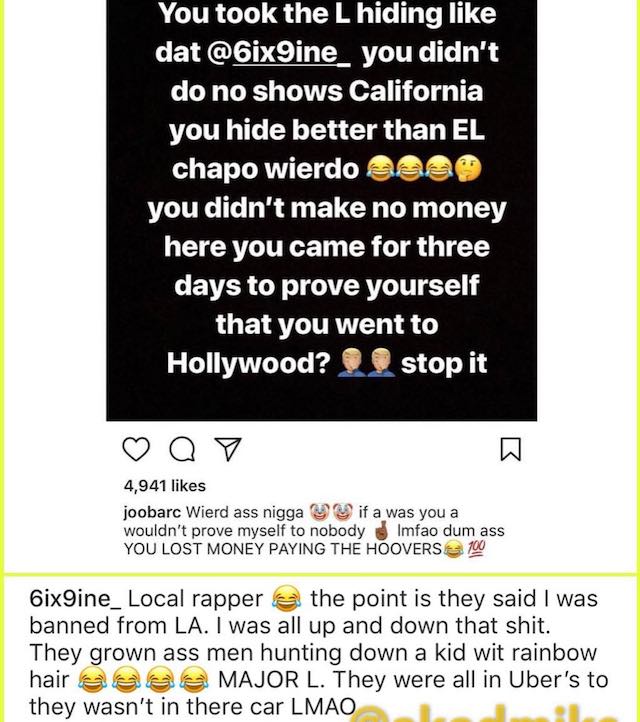 Yesterday, the "Kooda" rapper posted a message on Instagram mocking a local LA rapper who was on the hunt for him last weekend. "Local rapper the point is they said I was banned from LA," he wrote. "I was all up and down that sh*t. They grown azz men hunting down a kid wit rainbow hair major L. They were all in Ubers too they wasn't in there car LMAO."
Nevertheless, his issues with gangs all over the country is now affecting his bottom line and promoters will now be hesitant to book him for shows.