Shaggy and Sting joint album 44/876 will be here sooner than later.
The duo released the first single "Don't Make Me Wait" off the upcoming album yesterday. The duo is currently in New York recording the album and we're told that most of the songs are already recorded. The album release date is set for April 20th this year so going forward it's just the finishing touches and promotion. "Most if not all of the songs are already recorded so right now its like putting in the finishing touches and promoting the LP ahead of the big release," a rep for the dancehall legend told DHH.
Shaggy and Sting will also embark on a major tour of North America and Europe later this year to help push the album. "We are currently putting together a major tour, something big and authentic where we can get up close and personal with the fans, because this album is going to be big, ain't nothing normal what we have in the pipeline," his rep added.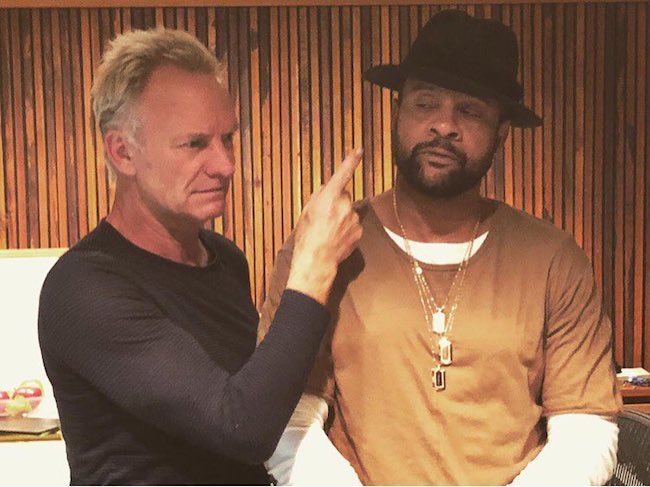 Shaggy is one of the most commercially successful artists in dancehall of all-time. His 2000 album Hot Shot has been certified diamond globally and six times platinum in the United States. Since then he has released around half a dozen albums but none of them come remotely close to the success of Hot Shot. Shaggy also tops Urban Islandz.com list of richest living reggae/dancehall artists with an estimated net worth of $22 million.
Sting is a hugely successful artist in his own right and has always been close to reggae. He was the lead singer/songwriter for the iconic British band, The Police in the 1970s and 80s, but in 1985 he launched his solo career and that same year he released his solo debut album The Dream of the Blue Turtles. The LP was heavily influenced by reggae music so it's only natural for Sting to team up with an iconic name in reggae/dancehall like Shaggy for a joint album. The album 44/876 is set for an April 20th release date.