Eminem may have another Joe Budden diss track on the way.
Last week, Eminem surprised the rap community with his "Chloraseptic (Remix)" with 2 Chainz and Phresher where he took a few shots at his Slaughterhouse comrade Joe Budden. A lot of us may say that the rapper turn podcaster cause this on himself when he called Eminem's new album Revival trash. Likewise, a lot of us really think that the album is trash but still feels the need to protect Shady from certain critics like Budden who has never been shy about speaking his mind on any topic in hip hop.
Nevertheless, Eminem fired back without calling his name on the track and Joe Budden has since come out saying he doesn't think that he was the one Em was dissing. Sources are now saying Em has another diss track coming and this time he will go directly after the "Pump It Up" rapper. "I think he (Eminem) feel some type of way about being targeted by someone he is close to as if there were some bad blood between them," sources said.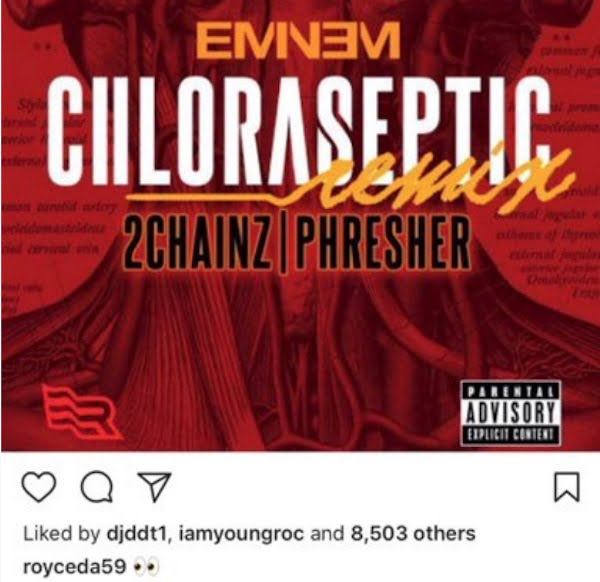 D2 member Bizarre was one of the first to push back at Joe Budden on Twitter by calling him a traitor. "Never bite the hand feed u.. I never like to do anyway chump," Bizarre tweeted. In case your wondering about the history between Joe Budden and Eminem here is a quick rundown. Budden was a member of Slaughterhouse, with three other rappers, Royce da 5'9″, Crooked I, and Joell Ortiz. Em signed the group to his Shady Records in January 2011.
Over the years, Budden has been a strong ally of Eminem until his harsh criticism of the Detroit rapper's new album. So when Bizarre says never bite the hands that feed you, that is what he was referring to. Joe himself is no pushover when it comes to battle rap, remember his attack on Drake two years ago. But when it comes to raw battle rap, Eminem is one of the greatest of all-time, so it will be interesting to see if he responds to Shady.