Kevin McCall threatened Chris Brown and his 5-year-old daughter Royalty on Twitter and its not going down well.
The singer/rapper was in the hospital this week for getting shot in his foot. The story about how he got shot is still fuzzy but we know that some folks are saying that he shot by Breezy. He has since denied both, without revealing who really did the deed. McCall and Chris Brown have been beefing since around 2012 and they are not making peace anytime soon, not after McCall threatened both Chris and his daughter Royalty.
"Chris Brown and his Seed would be in a Casket if he had anything to do with me being shot," he tweeted. "Stop playing with rumors or I can't promise CB will make 29! I kept him alive 7 years now in L.A. don't take the humbleness you see in me as weakness Chris wouldn't have a head to tattoo on."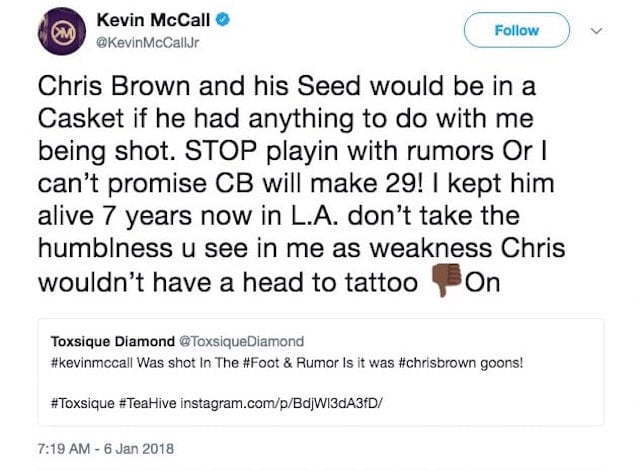 Chris Brown shows off his new Mortal Kombat head tattoo this week, so that is what Kevin McCall was referring to. Nevertheless, that tweet didn't go down too well and fans started blasting him for threatening a 5-year-old. He then deleted the tweet and backtrack on what he said, saying that he has nothing but love for Brown and his daughter Royalty. Breezy has not responded to the controversy and likely will not.
As for the shooting incident, McCall reportedly filed a police report but plans to take no further action on the matter, so perhaps he plans to deal with it in the streets. In one of his tweets, he made an interesting revelation claiming that the person who shot him also tried to kill Chris Brown for $500. "It's what people have tried to do in the past the person who shot even tried to kill him for 500$ and I fought him for it. So if someone does Kill me for what I said..again it's gonna harm a lot of people for a long time don't try to make CB look Gangster clown me & leave CB be," he tweeted.
I don't see wat I said wrong. The Bible says and eye for and eye…Chris didn't do it so don't bring his name up in my life and death situation because you playing with gossip but L.A ain't a game. I didn't threaten anyone I told you how life would play out. I saved him hella X's

— Kevin McCall (@KevinMcCallJr) January 6, 2018
It's what people have tired to do in the past the person who shot even tried to kill him for 500$ and I fought him for it. So if someone does Kill me for what I said..again it's gonna harm a lot of people for a long time don't try to make CB look Gangster clown me & leave CB be. https://t.co/KplHirM7Uu

— Kevin McCall (@KevinMcCallJr) January 6, 2018
They only time I would mention @chrisbrown and ROYALTY in the same sentence is the 3 million dollars in #ROYALTIES he owes me for look at me now/other songs he removed my name/credit on because I was un-educated and un-protected contractually- I don't promote EVIL so self reflect

— Kevin McCall (@KevinMcCallJr) January 6, 2018