Seems Migos claimed another victing and this time its XXXTentacion.
The Lauderhill rapper confirmed in a video her posted on Instagram on Monday night that Migos jumped him in L.A. There is no word yet from the Atlanta rap trio, but Cardi B posted a video of herself and Offset basically confirming that he wasn't there. The video clip we saw only shows Takeoff basically taking off from the scene and someone in the background like X and his crew yelling at the Migos member and his security.
"Before you heard it from anybody else, I got jumped in L.A. by some pu**y a*s n***** and they jumped me," X confirmed. "Nobody gave me the faith of a one on one, ni**a, nobody gave me the respect of a one on one and I painted that n***a while he was on the ground. F*** the Migos, straight up… Y'all ni**a had the chance to kill me. How you have fire and ain't shoot me after all the sh*t I been talking. How the f**k you ain't shoot me. Yall ni**a p***y as f**k."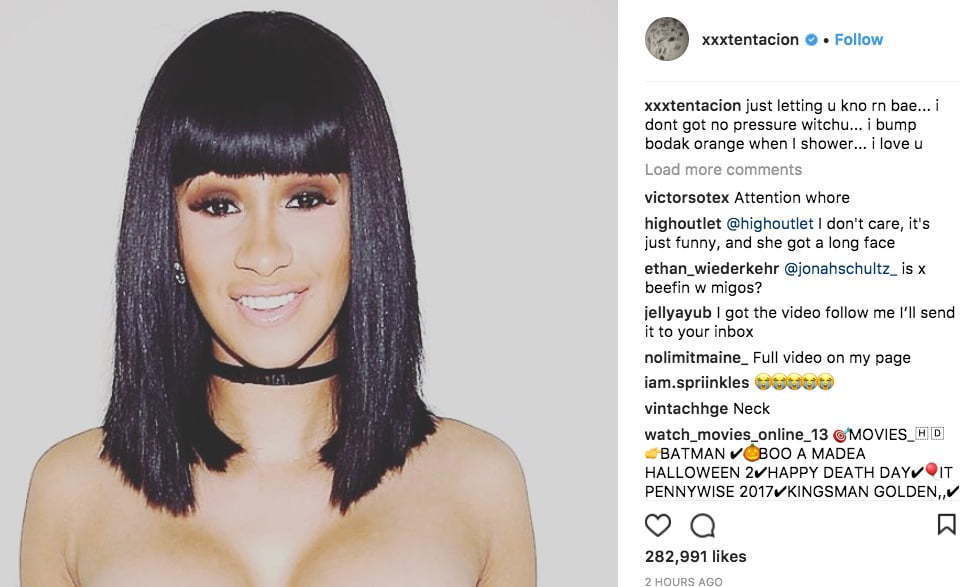 X also shared some words for one Migos member, Takeoff, in the caption of the video he posted on Instagram. "LOOK AT PU**Y ASS LIFT OFF RUNNINNNGGGG HAHAHHAA, I AINT GON LIE, I SMACKED THE FYE OUT THE BACK OFF THAT BOY SECURITY GUARD BALD AH HEAD AHAHAHHAHAH @yrntakeoff @migos LOLOL HOW YALL LEFT YALL HOMEBOY AHAHAHAHA," he wrote.
XXXTentacion also posted a pic of Cardi B assuring her that he has no beef with her, despite his issues with Migos. "Just letting u kno rn bae… i dont got no pressure witchu… i bump bodak orange when I shower… i love u," he wrote.
XXXTentacion then posted another video pushing some positive message. Watch the clip below.