Looks like Cardi B snag another high profile collaboration with Beyonce.
There is no doubt that Cardi B has been having a phenomenal year in hip hop thanks to her breakout hit single "Bodak Yellow (Money Moves)." The song has been certified platinum and topped the Billboard Hot 100 chart for three weeks. That resume is now paying off big for the Bronx rapper who might just score the collaboration of a lifetime.
Per her engineer, Ashby, Cardi B and Beyonce have a new collaboration and it seems like its a done deal and verses have already recorded because he posted a snippet on Instagram today. All he posted was a photo from the song file on his monitor that he was playing and you can see the writings "Cardi B n Beyonce Demo Wet." He captioned the pic "Wow this feature is big." While he didn't give any additional details about the collaboration, what he posted was enough to get both Cardi B and Beyonce fans excited.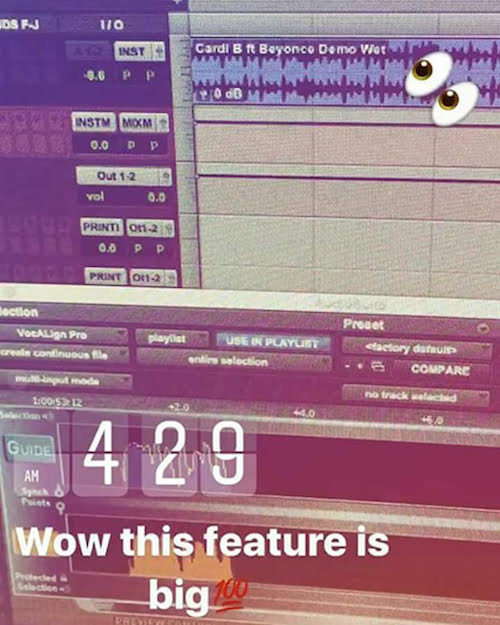 The two stars met for the first time at this year's Made in America festival in Philadelphia. They even posed for a photo and Cardi posted in on her Instagram. "I mean, I'm surprised Beyonce liked me, ahh! I met Beyonce!" she said in an interview with the AP. The former Love and Hip Hop New York star is currently working on her debut album, due later this year. It will be dope if he gets Beyonce as a guest feature on the album.
While she hasn't given a release date for the album, Cardi Be previously said in an interview that it could be here in November although her original plan was to drop it in October. She also previewed a song from the upcoming project in a club last week and it sounds like fire. Cardi previously worked with the likes of Offset and Kodak Black.