Nicki Minaj has congratulated Cardi B on achieving her number one single and then gets trolled over it on Twitter.
Black Twitter can be brutal and almost every celebrity on Twitter is aware of that. Cardi B is celebrating all day today after "Bodak Yellow (Money Moves)" climbs to the number one spot on Billboard. Nicki Minaj tweeting her congratulations earlier today and some fans weren't too happy about that. Some people think that she was showing fake love, but some of her more loyal fans think that she is genuinely happy for Bardi.
"Congratulations to a fellow NEW YAWKA on a RECORD BREAKING achievement. Bardi, this is the only thing that matters!!! Enjoy it," the Young Money rapper tweeted. Some fans started trolling her for the tweet and some of the attacks get pretty mean and personal. "Why you on here congratulating Cardi when you done know that your fake azz don't like her," one fan wrote." She came in the game and got a number one before you and we all know that your hating right now so quit with this fake sh*t."
Take a look at some of the comments she has been getting on Instagram from trolls.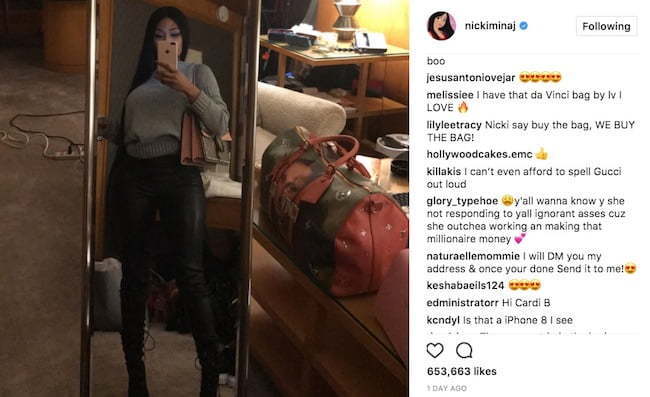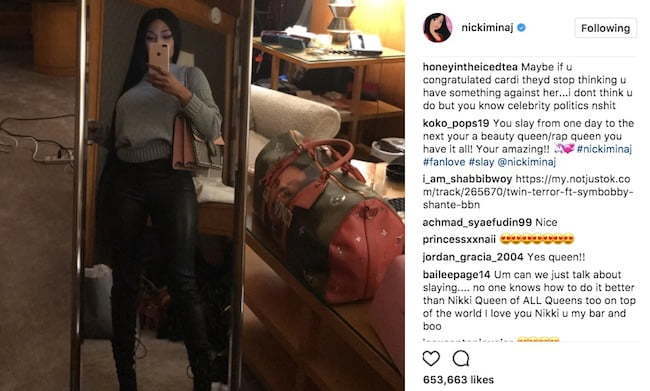 Despite the backlash from some fans, some of her supporters, aka Barbz, supported her and were happy that she offer some kind words to her fellow Queens rapper. Some fans even ask for a Nicki Minaj remix for "Bodak Yellow."
Congratulations to a fellow NEW YAWKA on a RECORD BREAKING achievement. Bardi, this is the only thing that matters!!! Enjoy it??? @iamcardib

— QUEEN (@NICKIMINAJ) September 25, 2017
Nicki we ain't here for this fake love. Cardi B have crushed your @Billboard record with no pressure. @nickiminaj @iamcardib pic.twitter.com/JvLO0FDoOJ

— Jerome Trammel (@MrJeromeTrammel) September 25, 2017
https://twitter.com/Izzyx91/status/912356765471305728
With one song… Cardi B did what Nicki Minaj couldn't do in her whole career ????????????????????????????????????????????????????????????????

— a registered flex offender (@_TonyHilfiger) September 25, 2017
Geez one moment people chastising her for not showing love and then when she do it's fake love. What is it y'all want? pic.twitter.com/rJFr4YiMLg

— Odd Li? (@FairlyOddBoi) September 25, 2017
https://twitter.com/Izzyx91/status/912357691854553088
STOP comparing Cardi B to Nicki Minaj thank you. They're their own person, stop trying to pin them against each other.

— zel (@denzeldion) September 25, 2017
https://twitter.com/richeycollazo__/status/912355627480924160