Kylie Jenner is pregnant with Travis Scott baby and the couple is expecting a baby girl.
There have been rumors that Kylie, 20, is pregnant for months now and it turns out that those chatters are true. TMZ broke the story on Friday that the reality star is expecting her first child with Travis Scott. Sources say both Jenner and Travis Scott have been telling their friends about the pregnancy and even told some folks that they are expecting a girl. Neither of them have confirmed the reports, but photos have surfaced online of the makeup mogul looking pretty knocked up.
The below photo was posted by Kylie Jenner on her SnapChat on Friday. Of course, she could just be trolling the news that she is pregnant or perhaps she really is, time will take care of all the doubts. She is clearly wearing baggy cloth which is only fueling the pregnancy rumors more. Kylie Jenner and Travis Scott have been dating for a few months now following her split with Tyga earlier this year. Paparazzi caught up with King Gold Chain in Los Angeles today and asked him about the pregnancy and he was just tight-lipped. Can't blame him for that because the moment he says something is the moment he makes tabloid headlines.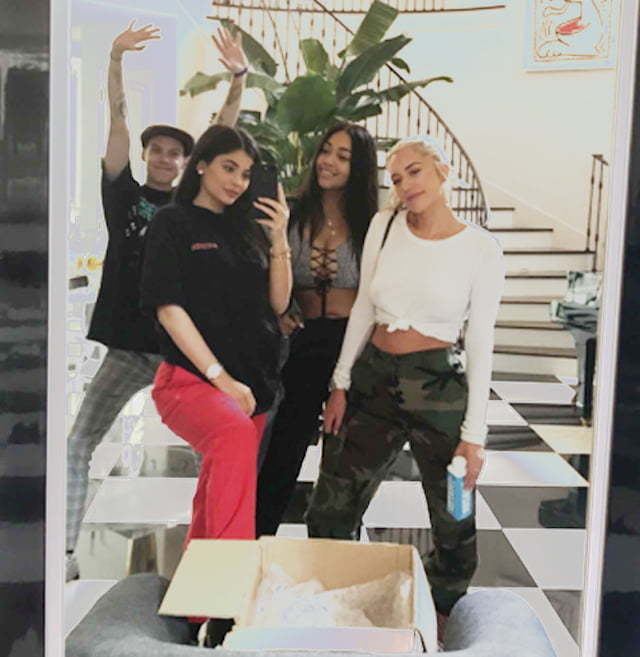 Tyga has been dating Kylie Jenner since she was 17 and kept their relationship under wraps. There are even some talks on Twitter that she might be pregnant for Tyga. That would be on a whole new level of scandal. She will likely film her pregnancy for a reality show and make millions off it and you can't blame her because she is a rating magnet. Some folks on Instagram are even suggesting that Kylie Jenner may be the mysterious surrogate that Kim Kardashian and Kanye West are using for their third child.