Offset chided some rappers who he says are endorsing devil worshipping using a upside down cross.
Turns out Lil Uzi Vert may have been one of the targets of his comments and now Uzi is trolling the Migos rapper on social media. Uzi Vert, who came under criticism recently for his fashion sense, posted a photo of drawing of a smiley face with a upside down cross and the number 666. We all know there are a lot of conspiracy theories around that particular number and similarly the upside down cross is known as the symbol for the anti-Christ. Offset left a comment on the post simply saying "I will pray for you my brother."
"All y'all ni**as wearing upside down crosses, these are my little partners man… stop that sh*t boy, you look lame," Offset said in a video. "All that worship the devil sh*t. Get with God, man." Lil Uzi Vert also has a chain with a similar design theme, so it seems Offset wasn't hear for that. Uzi Vert also wore the same chain on the red carpet of Sunday night's 2017 Billboard Music Awards. The "Money Longer" posted a photo of himself wearing the diamond necklace, so something tells us that we will be hearing more from the Migos hitmaker tomorrow.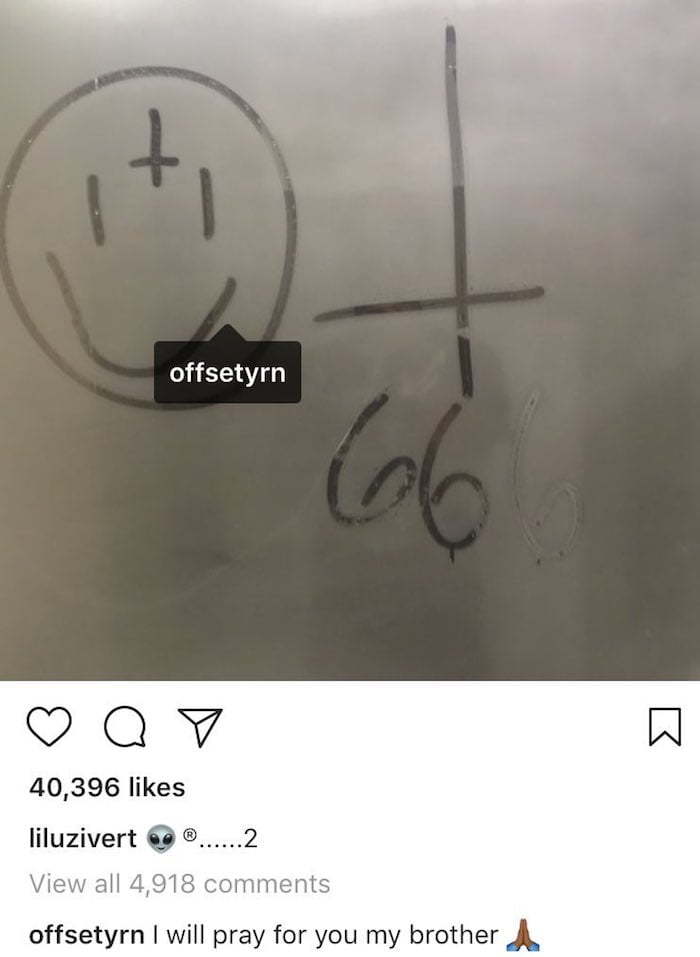 "When was the last time you had a disagreementabout religion or beliefs… You are welcome I really ain't feeling the mainstream sh*t nomore too many rules.. My universe," Uzi wrote in response to his critics. A lot of hip hop fans have been commenting on Lil Uzi Vert post on Instagram with a lot of them criticizing the move. Seems the Atlanta rapper has been having the worst or best two weeks of his life because almost everyday he has been in the headlines. "First the ripped up hooker shirt and now this f***ing upside down cross what have u been on Uzi?" one fan wrote. Either Uzi is doing this just to troll Offset and most of his fans or he is doing it just for the share marketing value of the exposure.