Drake and Nicki Minaj are not an item despite the recent round of rumors claiming that the pair is dating.
Urban Islandz always reliable source with inside knowledge into the Trinidadian rapper's inner circle told us this morning that the reports are completely false. We're told that Drake has always had a big crush on Nicki Minaj but she put him firmly in the friendzone and now their friendship is closer than ever since their reunion back in January.
"No they are just friends at least at the moment and anything can happen in the future but these dating rumors are just what they are," sources said. "Drake always has mad love for Nicki Minaj but she sees him as that genuine friend that always has her back. Since their reunion in January they have been closer than ever even with Weezy, the three of them are what we say in the Caribbean 'tight again.'"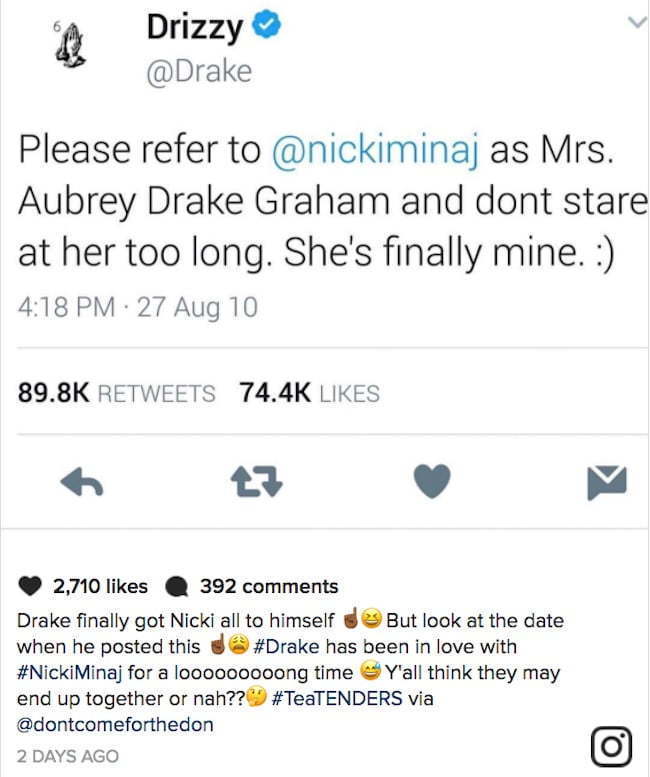 Our source said that Nicki Minaj is not looking to start dating again after her recent heartbreak with Meek Mill she is just focusing on her career and getting her new album to her fans. "She works better this way when there is no man in her air," sources reveals. "Nicki is that type of chick that enjoys her independence, but with her and Drake you never know because he is a great guy. At the moment though she is just trying to get that album out and making money and enjoying herself."
Drizzy has had his eyes locked on his labelmate since 2010 and even tweeted about it. Earlier this week, Drake and Nicki Minaj posed for a candid photo together before they hit the stage in Paris for his Boy Meets World tour. Do you think Drake and Nicki Minaj should just start dating and get it over and done with?