Rapper/lyricist Young M.A is one of the most talked about new emcees on the scene in 2016. But just who is this fresh new face on the hip hop scene.
Young M.A is a 24-year-old rapper whose real name is Katorah Kasanova Marrero. She was born and raised in Brooklyn, New York, but she is of Jamaican and Puerto Rican decent through her parents. At age 18 she openly came out as a lesbian. In 2013 she started uploading her music to YouTube but her big break didn't come until early 2016 when her single "OOOUUU" started getting a lot of attention.
Breakout hit "OOOUUU."
2016 is the year of Young M.A thanks to her breakout hit single "OOOUUU." The hardcore track peaked at No. 21 on Billboard Hot 100 and got remixed by a number of big name rappers including Nicki Minaj, Meek Mill, French Montana, Jadakiss and 50 Cent. She then went on to perform the track at the 2016 BET Hip Hop Awards and even turning down a role in the hit television series Empire.
Artists who influenced her.
Young M.A often credited 50 Cent as her biggest influenced in hip hop. She said his single "Many Men" was the song that influenced her to start rapping. She even once posted on Facebook that any rapper beefing with 50 Cent is also beefing with her. Over the last couple of months she has garnered the support of other artists like Nicki Minaj and Beyonce who gave her a cosign when she asked her to open for the final night of her Formation World Tour.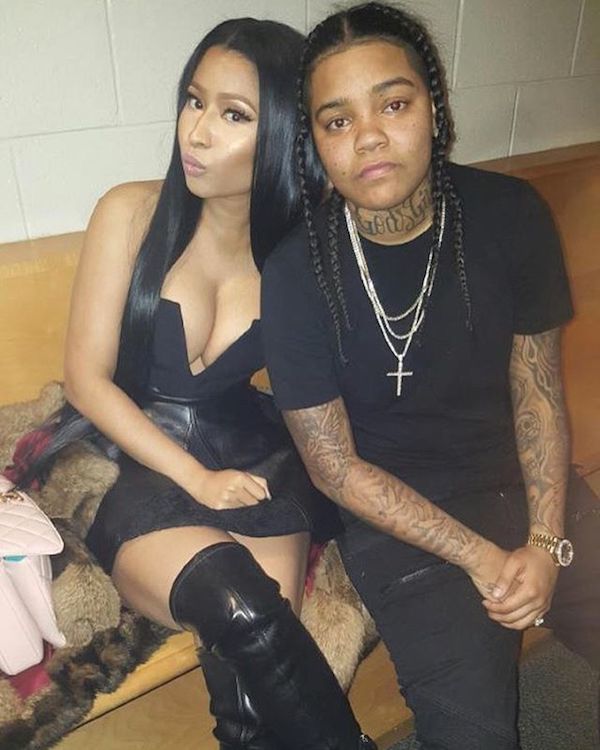 Last week rumors started circulating that Young M.A has been making a move on Nicki Minaj and couple potentially take her away from Meek Mill.
Young M.A is still an unsigned artist.
Despite receiving offers from several major labels including Epic Records, Atlantic, and RCA Records, Young M.A is still an unsigned artist.