Drake is angry at Hot 97 radio right now particularly DJ Funkmaster Flex.
The Toronto emcee was performing at Madison Square Garden in New York City on Thursday night for the first of three nights of his Summer Sixteen Tour, he let his grouses with the veteran NY disc jockey be known.
Drake "I Am Ready" To Battle Eminem, Beef Brewing
"They tellin' lies on Hot 97, that's how it goes / I told them 'Fire Funk Flex and then I'll come and do your show' / Plus, me and Kanye, we just left out the studio / My first night in the Garden, I'm feeling like D. Rose," Drizzy raps in a freestyle on stage.
Hot 97's Ebro Darden also claimed on his show that Drake said "F*** Hot 97″ but we haven't seen any video or heard any audio to support that claim so we will leave it at that.
Seems Drake is feeling salty about Ebro stirring up some false rumors that he made comments about beefing with Eminem. Ebro, who was at the center of that controversy, also weight in on Drizzy's freestyle on stage last night.
"What is this really about with Drake?" Darden asked on his radio show this morning. "Is this really about the fact that I said we was joking about him making comments about Eminem? You think that's what this is really about? Or is this about Flex?"
Drake beef with Funkmaster Flex dated back to the Meek Mill twitter finger drama. Flex was one of the few radio personalities siding with Meek in claiming that Drake doesn't write his own raps.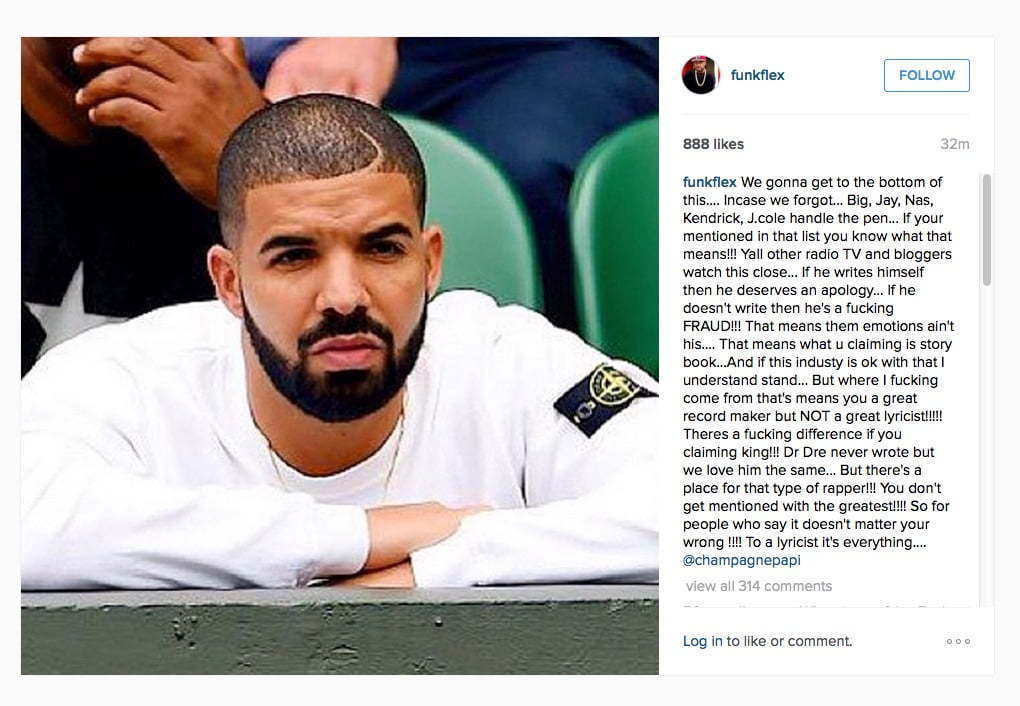 "We gonna get to the bottom of this…. Incase we forgot… Big, Jay, Nas, Kendrick, J.cole handle the pen… If your mentioned in that list you know what that means!!! Yall other radio TV and bloggers watch this close… If he writes himself then he deserves an apology… If he doesn't write then he's a fu**ing FRAUD," Funk Flex famously wrote in a post on Instagram last year.