When your collaborating with Beyonce and Jay Z it means that you've reached your peak.
Nicki Minaj just sent off a Twitter frenzy when she announced that a new collaboration with Jay Z is coming as soon as in three days.
SEE ALSO: Nicki Minaj And Meek Planning Full On Beyonce And Jay Z On Tour
The Young Money rapper was responding to a fan's question about her rumored collaboration with the rap titan.
"It's coming in 3 more days," Nicki Minaj wrote on Twitter before deleting it. But not before someone grabbed a screenshot.
Sources close to the "Only" rapper told Urban Islandz that they could not confirmed the duet but says if it happens it would be exclusively released on TIDAL.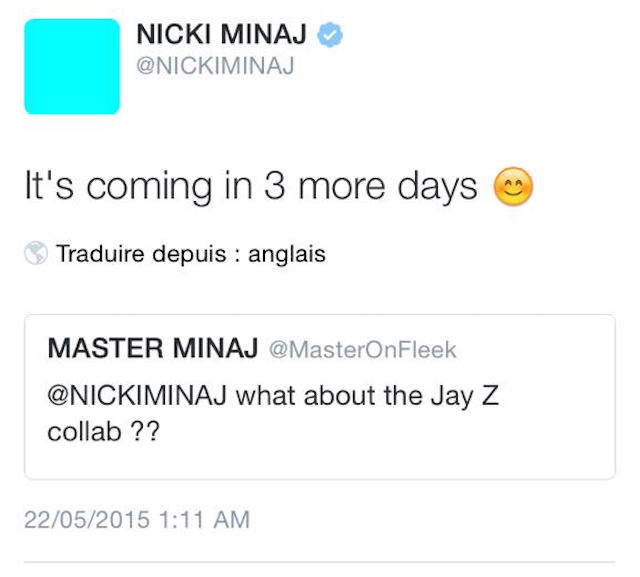 "I can't confirm or deny the collaboration but chances are it would be a TIDAL exclusive release and it would be huge," Urban Islandz sources said.
SEE ALSO: Nicki Minaj Dissing Tyga Over Relationship With Kylie Jenner
The rumored collaboration has been floating around for the last few weeks and rumored to be named "F**KUPITCHIN?!," according to Fader.
Nicki Minaj is enjoying some success with the recent release of the music video for "Feeling Myself" featuring Beyonce.