Nicki Minaj shoot the video for her new single "Only" with Lil Wayne and Drake.
The Young Money rapper posted several photos from the set on her Instagram page and says the video is coming soon.
SEE ALSO: Nicki Minaj Full Version Of "Bed Of Lies" Featuring Skylars Grey
"The "ONLY" video ft Drake, Lil Wayne & Chris Brown is coming SOON," she captioned one photo with Drake.
Nicki Minaj showed off all her curves in a fishnet skin-tight outfit. Everybody was wearing black which seems to be the theme for this video.
In another clip Lil Wayne was spotted holding two bottles of Myx moscato, a drink Nicki Minaj partnered in.
Chris Brown was not seen on set despite being featured in the Dr. Luke, Cirkut, and J Mike-produced single.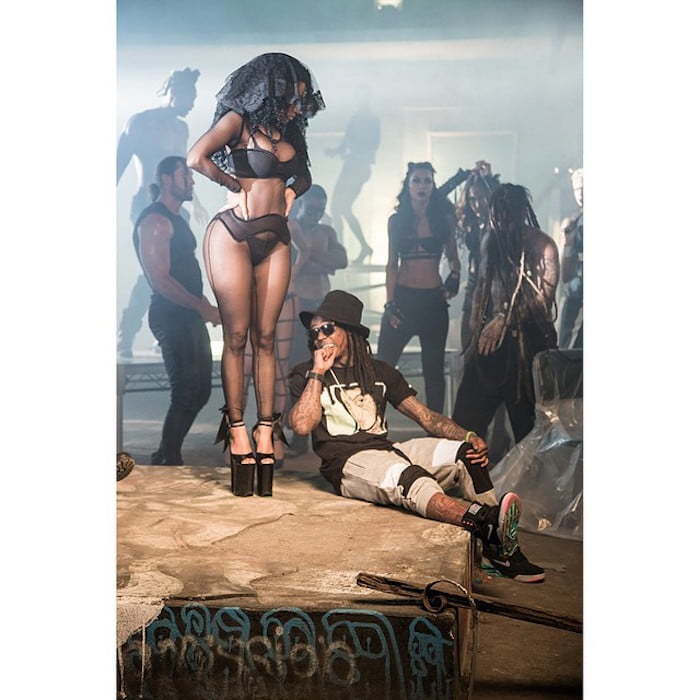 Nicki got some heavy criticism last week when she released an animated lyric video with Nazi theme. The clip didn't go down so well with some fans who voiced their opinion on Twitter.
Sources close the video shoot told Urban Islandz that the crew had a lot of fun on set.
"It was all good vibe for Nicki, Drizzy, and Weezy on set," the source told us.
gallery