Blueface's mother is being dragged by her son after her effort at thirst trapping on social media backfired.
On Sunday, Karlissa Saffold was scolded by her son and social media users after she seemingly posted a naked thirst trap on her Instagram story. The pic featured her in a selfie with her lips puckered. However, the mirror behind her revealed that her pants were down, and her derriere was visible.
Blueface quickly roasted her mother for the image as the post went viral. "Ewww lol," he wrote in one tweet while adding in another, "Old lady Booty cheeks." Karlissa, however, told her followers that she made a mistake and accidentally uploaded the photo to her Instagram Story when it was intended for her husband.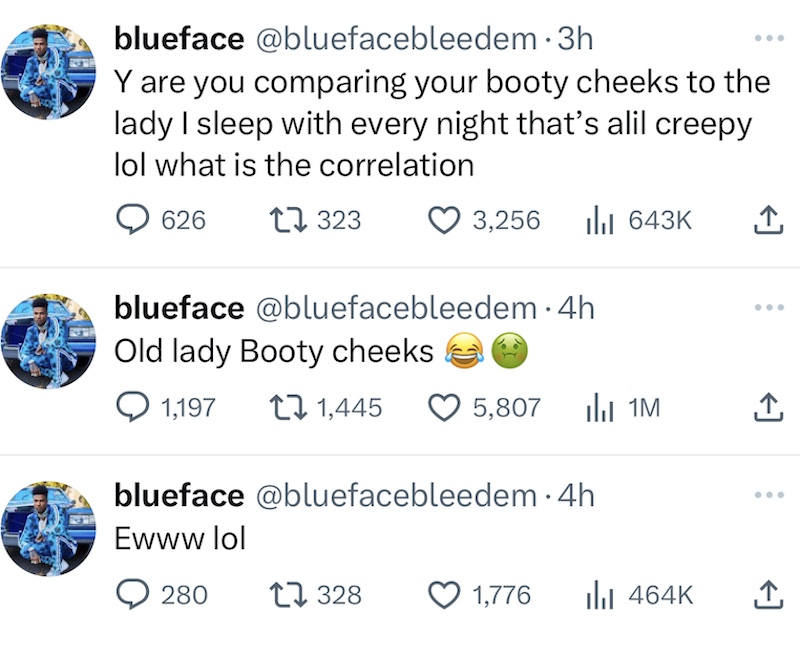 "I promise I did not moon y'all for clout. Hell my daddy just called me about seeing my old rusty a$$… that was an accident I sent to my husband. Y'all ain't worth my a$$ for clout," she wrote on Instagram Story.
She also responded to Blueface writing about her behind being disgusting, with her daughter-in-law, Jaidyn Alexis, getting stray shots over the look of her BBL. "Now I said it was accident bn but it looks better than the one you spent yo life savings on," she wrote.
Blueface also called out Karlissa for comparing herself to Jaidyn, writing that he saw no need for the comparison.
"Y are you comparing your booth cheeks to the lady I sleep with every night that's a lil creepy lol what is the correlation," the rapper wrote.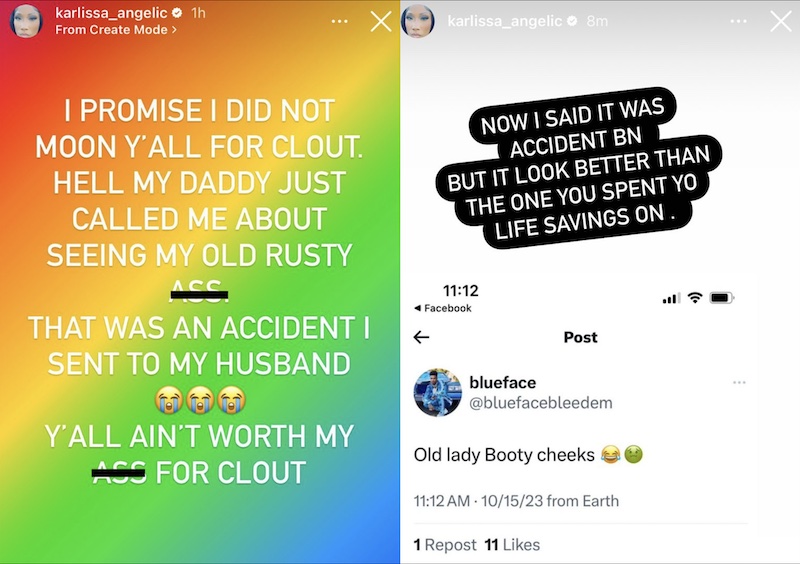 Karlissa Saffold does not seem angry at her son despite his gentle roasting. Still, she continues to promote her family show, Cixot (Toxic), which leads to her followers thinking that her latest shenanigan is nothing but attention-seeking for the show.
The mother of three has come under heavy criticism for her involvement in the personal lives of her children, but she has defended her involvement as just her being an involved mother.