The prosecution in the YNW Melly trial has revealed messages sent by Melly's co-accused YNW Bortlen to a witness in the trial where he seemingly threatens to kill another witness- Melly's ex-girlfriend.
On Monday, prosecutors revealed the damning direct message exchanges between Bortlen and Felicia Holmes, the mother of Melly's ex-girlfriend Mariah Hamilton. Holmes made quite an impression during Melly's trial, where she denied making statements to the prosecution and even claimed she was harassed by the investigating officer, Mark Morretti. She was eventually treated as a hostile witness, which helped to contribute to the case ending in a mistrial.
However, it seems that Ms. Holmes is in deeper than previously thought as the exchanges hinted at her daughter's life being threatened by YNW Melly and the "Murder on My Mind" rapper being a "snake" who turns on his friends.
The messages had a time stamp for earlier this month (October 2023), and not only is it evidence that Bortlen committed witness tampering, but the responses from Hamilton's mother reveal that she may have perjured herself on the stand during Melly's first trial.
The tone of the responses hints that she and her daughter have information that could be helpful to the prosecution in sending Melly to jail for a long time. The messages began with
"Hey there. Ima have my cousins in Atl, drop Melly herpes-infested Bih. Red bone. He need to check her nasty HIV infested a$$," a message from Bortlen read.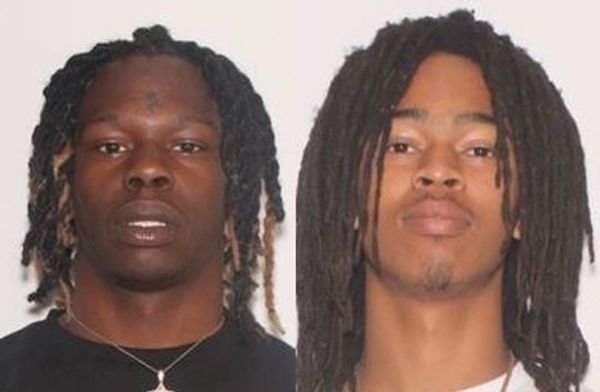 Holmes also responded as she called out Bortlen for defending Melly, who wouldn't do the same for him.
"You a duck. Melly didn't even fck with you. like that. I watched him leave u in the clúb while Project bêat you're a$$, You dumb asf. She don' need blood Money. The lifestyle she living is going to be blessed by GOD! Leave my baby alone, She doesn't give a damn about Melly & if she did, she'd testify on his ass & yours too," Holmes began.
The message continued with her claiming that her daughter had information that would ensure Melly received the death penalty.
"Melly a snake. & just like he did Sak, Juvy, his mom & [redacted] u next. GOD don't bless mess. That's' the devils money. So leave her the fck alone. Don't mention her bc she don't mention y'all. Y'all act like a bunch of bitches. Shut the fck up:& get money before sumbdy slump your A$$. These niggas talking about murking y'all & y'all focused on my child. If she told on Melly his ass would be getting the death penalty y'all keep fcking with her & he will. F** Jamie f***ed out long mouth long c*ck a$$ & f** y'all. We don't need Shih from him. KARMA," Holmes wrote.
Hamilton did not testify in Melly's first trial because she could not be found. Weeks after the mistrial, Hamilton popped up on a Law & Crime interview where she pushed the narrative that she was in hiding due to cops being on her tail.
However, Holmes claims that it is Melly and Bortlen who are messing with her daughter.
"Just leave her alone. Y'all have ruined enough lives. Let her live hers. She don't need his money. She's always lived good & will continue: Melly not the only n***a with money & at least I kno she won't be harmed. He's evil & he snaked someone who didn't snake him. KARMA. . my baby blessed be she's done nothing wrong to any of u but y'all keep bothering her. She cuda have ended Melly months ago," the message said.
Bortlen is accused of helping Melly to cover up the murders by claiming that he was driving them when they were attacked by drive-by shooters. However, Holmes argues that YNW Bortlen is going to be killed by YNW Melly when he no longer needs him.
"Melly slow. He's talented but he has no brains. U don't cross everybody & think your life gonna be great. He only loyal to you for 1 reason. U beneficial-as soon as u stop… he'll snake u too; we will getthe last laugh. So y'all enjoy y'all money & we'll enjoy ours."
In another message, she also claimed her daughter never spoke to cops.
"My daughter didn't tell on melly or he would never get out, He hypothetically told her everything. She knows what u kno. He told her the morning of a [redacted] house. She didn't tell them ppl what he told her or there would never be any getting out for him but since all y'all gunning for her & she's scared for her life. Let ya boy kno everything he told her at [redacted] house I kno & I'm gonna make her tell. She hasn't been subpoenaed yet but after they hear this story she will be. Melly slow. She had his back. She told what they already knew. But the Shih he told her.., & FYI her dad will be home in 30 days. So any goon u send this way to ick with mine he gonna send 5. Melly wanna play dirty well tell the lawyer we kno Shih they don't even kno. And we have decided to cooperate. He dogged my child when she kept his secret. No all gloves off," she said.
Holmes added, "… Y'all a**es would never tried me like that. That n***a would had to pay me for that secret. But she not Money hungry Sht was loyal to a man she thought loved her & look what it got her so y'all send them goons to fck."
The woman went on to say that Melly had "confessed" to her daughter, and she and her daughter planned to testify.
"He told everythirig: & we kno, so l'm going to the detective. No, we told what we thought happened. Drive by. I didn't kno the full logistics until my daughter hypothetically told me. Sack was sleep all she got to do was testify. Cooperate. And since y'all think he did. Let's tell what Melly really did. What he really told her upstairs in [redacted] house… oh l'm testifying. I wasn't, but'1 damn sure is now, He lied. He was with them. He told me he was that moming. I talked to him. Shih, did I tell them he was with them? Hmmmm, I think they should know that. He was in that car. He said it. He said u & him both were in there © I woke Jamie up that morning. He called is first lil homie, It's-ok my phone lil dude. Alli gotta do is give it to them. Now I thought u was smarter. I'm on some hide these niggas type Shih how y'all tried mine. I won't them white folk to put all y'all involved somewhere reall nice. Enjoy it while it I kno y'all are going to prison. & Ima does what I shoulda been done. I kno that much testifying. I wasn't, but I damn sure am now. He lied. He was with them. He told me he was that mörning. I talked to him. Shih, did I tell them he was with them? Hmmmm, I think they should know that, He was in that car. He said it. He said u & him both were in there (g I woke Jamie up that morning. He called is first lil homie."
Another message read, "It's ok my phone lil dude. All I gotta do is give it to em. Now I thought u was smarter. I'm on some hide these n***as type Shih how y'all.tried mine I want them white folk to put all y'all involved somewhere really nice. Enjoy it while it. I kno y'all going to prison. & Ima do what shoulda been did know that much…Bc u already kno. U was there. If that n***a was gonna get out he would been. They ain't playing with a double homicide. This Florida…But u already kno. U was there."
#YNWBortlenTrial: The State filed a 36-page arrest paperwork and warrant image on the added witness tampering charge for @YNWBortlen that lead to found probable cause with Broward Clerks over the weekend.

Among the pages are screenshot images of an Instagram conversation… pic.twitter.com/umhxhFrAOg

— Bryson "Boom" Paul (@brysonboompaul) October 9, 2023
It's unclear if Holmes and her daughter will testify now that their lives are under threat. The trial has been pushed back until later this month after Judge Murphy gives his ruling on the defense motions to throw out the case.
The defense has alleged the prosecution committed several breaches, including Brady violations. There are also allegations that Detective Morretti concocted evidence that would be otherwise inadmissible, while prosecutor Kristine Bradley has been accused of prosecutorial misconduct in relation to the same allegation.