Convicted rapper Tory Lanez has broken his silence as he reacted to the 10-year sentence handed down by California Superior Court Judge David Herriford earlier this week.
On Thursday afternoon, a defiant Tory Lanez vowed not to let jail "eliminate him" and make him forgotten by his fans. The Canadian rapper would be in his forties when he is released after serving his jail sentence.
In a lengthy post on his Instagram account, the rapper told his fans that he was innocent.
"To The Umbrellas, I have never let a hard time intimidate me. I will never never let no jail time eliminate me. Regardless of how they try to spin my words, I have always maintained my innocence and I always will," the statement read.
The Canadian rapper also said he was unapologetic for any charges he is facing as he was "wrongfully convicted," and his comments in court this week directed at Megan is not an apology for shooting her.
"This week in court I took responsibility for all verbal and intimate moments that I shared with the parties involved…. That's it. In no way shape or form was I apologizing for the charges I'm being wrongfully convicted of. I remain on the stance that I refuse to apologize for something that I did not do," the statement said.
He continued, "I've faced adversity my whole life and every time it looked like I would lose, I came out on top. This is nothing but another moment where my back is against the wall and I refuse to stop fighting till I come out victorious."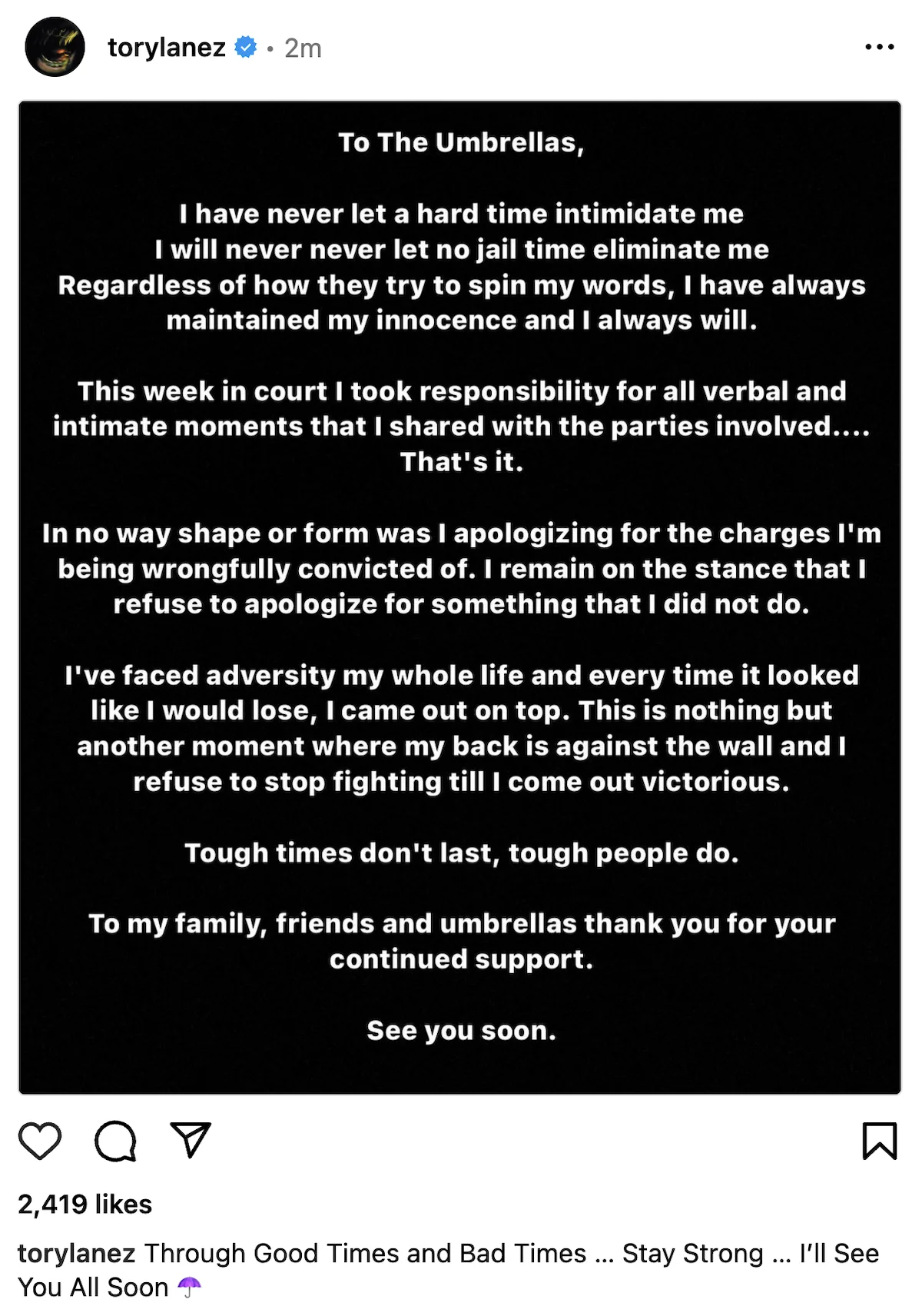 Adding that "tough times don't last, tough people do," the rapper went on to thank his family and friends for their continued support of him.
Lanez's sentence was handed down after a two-day sentencing hearing where Justice Herriford discussed his finding two of the three aggravating factors outlined by the prosecution in guiding his sentence.
According to the judge, Lanez's actions before and during the trial were egregious as he taunted the victim, Megan Thee Stallion, after shooting her, and later he breached gag orders that prohibited him from speaking about the matter as well as leaked evidence in discovery to a blog to add public pressure on the victim and the case to favor himself.
Tory Lanez has continued to proclaim his innocence despite the prosecution asking the judge to sentence him to 13 years in jail because he was a danger to the community.
The defense had asked the judge for a more lenient sentence- three years with probation and completion of a drug treatment program as Lanez was reportedly an alcoholic, and his behavior was a result of childhood trauma and mental illness.
Since his incarceration in December of last year following his conviction, Tory Lanez has released one new single, "Hurts Me," featuring Yoko Gold and Trippie Redd. He also revealed he has a deluxe album on the way, but it's unclear if he will continue to release music while behind bars, at least for the next 7-10 years.