Rapper Blueface has revealed that he is on house arrest and has put his baby mother, Chrisean Rock, out while his longtime girlfriend and mother of his two children, Jaidyn Alexis, has moved in.
On Thursday, Rock shared a screenshot from Blueface where he begged her not to end the relationship and still be with him. However, the rapper responded that he was not with Rock and because she was the reason for him being on house arrest and that he is now back with Jaidyn.
Blueface and Rock broke up weeks ago, with them both appearing to go their separate ways. The "Thotiana" rapper has since shown himself out and about with Jaidyn Alexis while Rock continues to focus on her career and healthy pregnancy. She was recently spotted performing at Hollywood Unlocked's Impact Awards earlier this week.
It seems that Blueface regrets the breakup and has been begging Rock not to turn her back on him, according to text messages shared by Chrisean.
"I a begging I'm literally telling you come an you telling me about something else I'm not gone wait an I'm not gone press you to come it's up to rock," one text said.
"Just always remember this moment when you at yo lowest an most vulnerable an I'm not there for you or I [don't] cancel my plans for you just always remember this day Im not saying that to manipulate you in saying it so you not crying victim when you vulnerable an low an I don't show up for you," another said.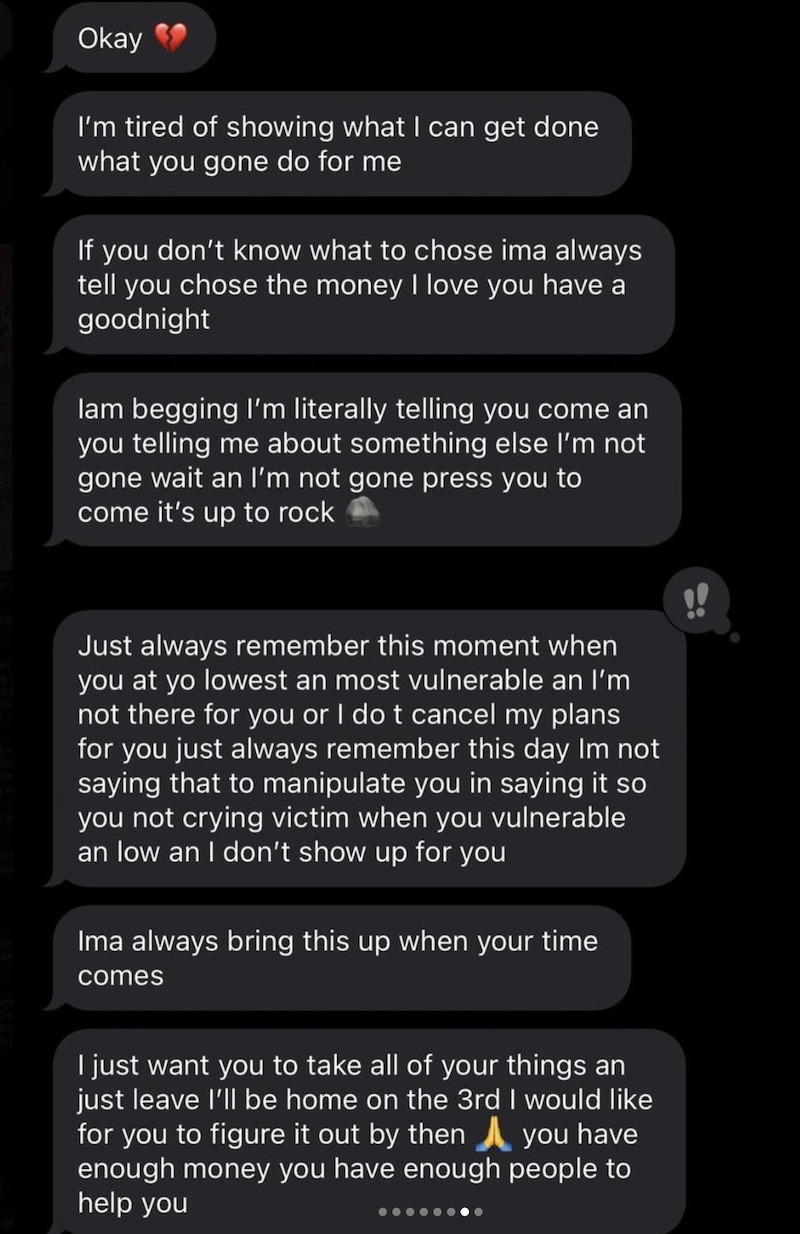 Chrisean Rock appears to be exposing Blueface, who a day before appeared on a podcast where he blamed his baby mother, Jaidyn, for not satisfying him and leading to him taking up with Chrisean Rock.
The rapper seemingly responded to Rock, where he claimed that his recent arrest for assault and battery in Las Vegas was because of Rock.
"I'm only on house arrest cuz I took all the charges for Rock Y you think their [sic] is no warrant for her arrest y would I let her stay in my house when I'm stuck in another state an I got my BM ready to drive to me with the kids Rock is out and Jaidyn is in it's that simple," he wrote on Instagram.
He added in another post, "I said no I'll take the deal an plead guilty cuz her name is all in the work."
The rapper also revealed details of the indictment, which said that Chrisean punched the woman who recorded them in a casino in Las Vegas after the fan used an expletive at Blueface.
The document added that surveillance footage shows Chrisean, whose last name is Malone having an altercation with the woman, and Blueface then walked up to the woman and took away the fan, Ms. Jenkins' phone.
"The Grand Jury must also be informed of the entirety of Ms. Jenkins report [redacted] Officer Sweet that she was only hit two times and neither by [Johnathan] Porter," a section of the document read.
"She just walking around socking people pregnant but I'm the bad guy," Blueface added.
He said in another Instagram Story, "I put Rock out for Jaidyn get over it."