Cardi B has slammed Tasha K after the latter chose to troll her over Takeoff's death on Wednesday afternoon following the rapper putting Brian Szasz, stepson of billionaire Hamish Harding, reportedly lost at sea in a tourist submarine to view the Titanic at the bottom of the ocean.
Cardi B had strong words for Tasha K, telling her to keep Takeoff's name out of her mouth after she bashed Cardi for appearing too happy after the Migos rapper's death.
It all started with Cardi offering her opinion on the search for a missing submarine that visited the Titanic and got lost. The stepson of one of the occupants, the billionaire, has gone viral after he was spotted at a Blink 182 concert.
While Cardi felt that the son should have been home supporting his family, leading to a fiery debate online and Tasha K also taking shots at Cardi, who she called a sort of hypocrite.
"You supposed to be crying for me, you supposed to be right next to the phone waiting to hear any updates about me," the artist wrote on Twitter.
The stepson, named Brian, also lashed out at Cardi, calling her music "trash" and claiming that he attended the Blink 182 concert because he wanted help "coping rather than sit at home watching the news" and she should get some class.
Brian has invited a lot of negative attention to himself as the submarine reportedly has less than 12 hours' worth of oxygen, and he is online making sexual propositions to an only fans model on Twitter. The Navy and other authorities have deployed in search of the vessel, which went dark yesterday, but no news has surfaced, sparking concerns across the United States.
As for Tasha K, she used the spat between Cardi and Brian to take a jab at the rapper, writing on Twitter, "Wasn't she posting guns right after Takeoff died? And on the internet, cutting up not long after his sudden takeoff? I'm just asking…Everyone grieves diff…"
Cardi slammed Tasha K and vowed to do everything she could to recoup her $4 million judgment award from the disgraced YouTuber.
"Tasha K with your despicable as*.. to bring up Takeoff to prove a fake as* point is disgusting. I lost weight, I couldn't eat, I couldn't sleep, me and my man STILL dealing wit that to to this day. I'm a rapper, we targeted all the time so of course I have guns for protection," Cardi wrote.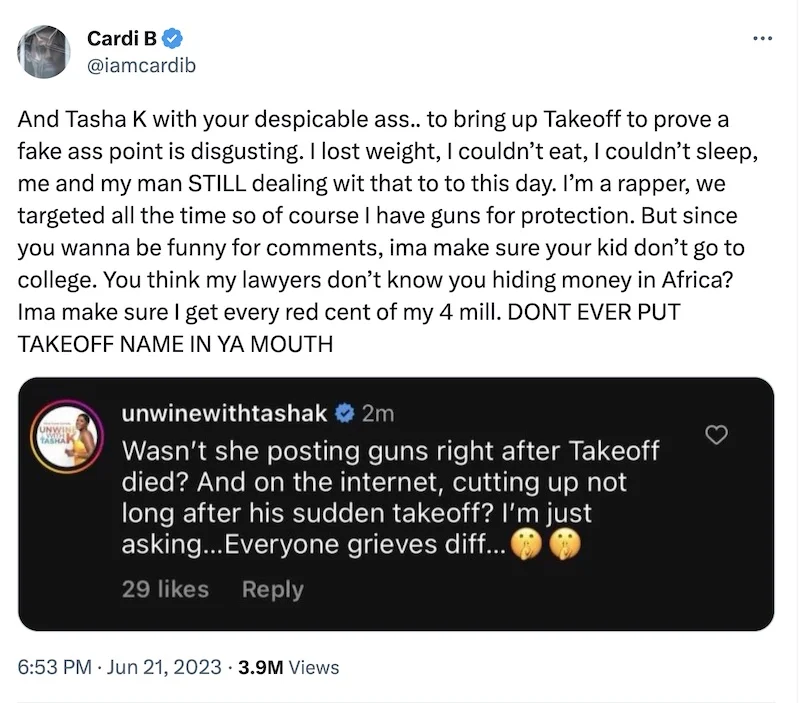 She continued, "But since you wanna be funny for comments, ima make sure your kid don't go to college. You think my lawyers don't know you hiding money in Africa? Ima make sure I get every red cent of my 4 mill. DONT EVER PUT TAKEOFF NAME IN YA MOUTH"
Tasha K also shared a video of her playing Takeoff's music and peeping through her small closet door in response to Cardi B.
Stepson of Billionaire on Titanic Submarine put Cardi B on blast
As for Brian, she also responded to him, saying she was seeking clout by speaking on him.
"The point was the whole world is praying for these people in the submarine and this man son is online shaking dicks for girls off onlyfans and going to Blink 182 concerts. You was looking for clout all along, nobody knew who you were until you said that was ya stepdad," she said.
Brian's Twitter account has mysteriously vanished from the online platform.
The point was the whole world is praying for these people in the submarine and this man son is online shaking dicks for girls off onlyfans and going to Blink 182 concerts. You was looking for clout all along, nobody knew who you were until you said that was ya stepdad!!! This is… https://t.co/FQ8pfR55Ob

— Cardi B (@iamcardib) June 21, 2023
Billionaire in Titanic submarine stepson fires back at Cardi B https://t.co/GHoXBWUFN8 pic.twitter.com/pDDykyhNdx

— Urban Islandz (@urbanislandz) June 22, 2023