Queen of the Dancehall, Spice has pulled out of an upcoming event leading fans to speculate that she was averting a possibly disastrous meet-up with her nemesis, Minister Marion Hall, formerly Lady Saw.
On Monday night, Spice shared an apology to fans for pulling out of the Groovin' in the Park 2023 event, citing multiple reasons. This would have been the first time in almost 10 years that Spice and Hall would grace the same stage.
"I Grace 'Spice' Hamilton would like to announce with deep regret that I will no longer be performing at Groovin in the Park 2023. For multiple reasons beyond my control, I would like to apologize to all my loyal besties who [were] anticipating seeing me there and I personally would like to extend this apology to the event promoter who was extremely professional during this time," she wrote on a poster on Instagram.
"I anticipate a great show with the original line up and I'm sure it will be a successful event as always," the artiste added as she expressed appreciation for her fans.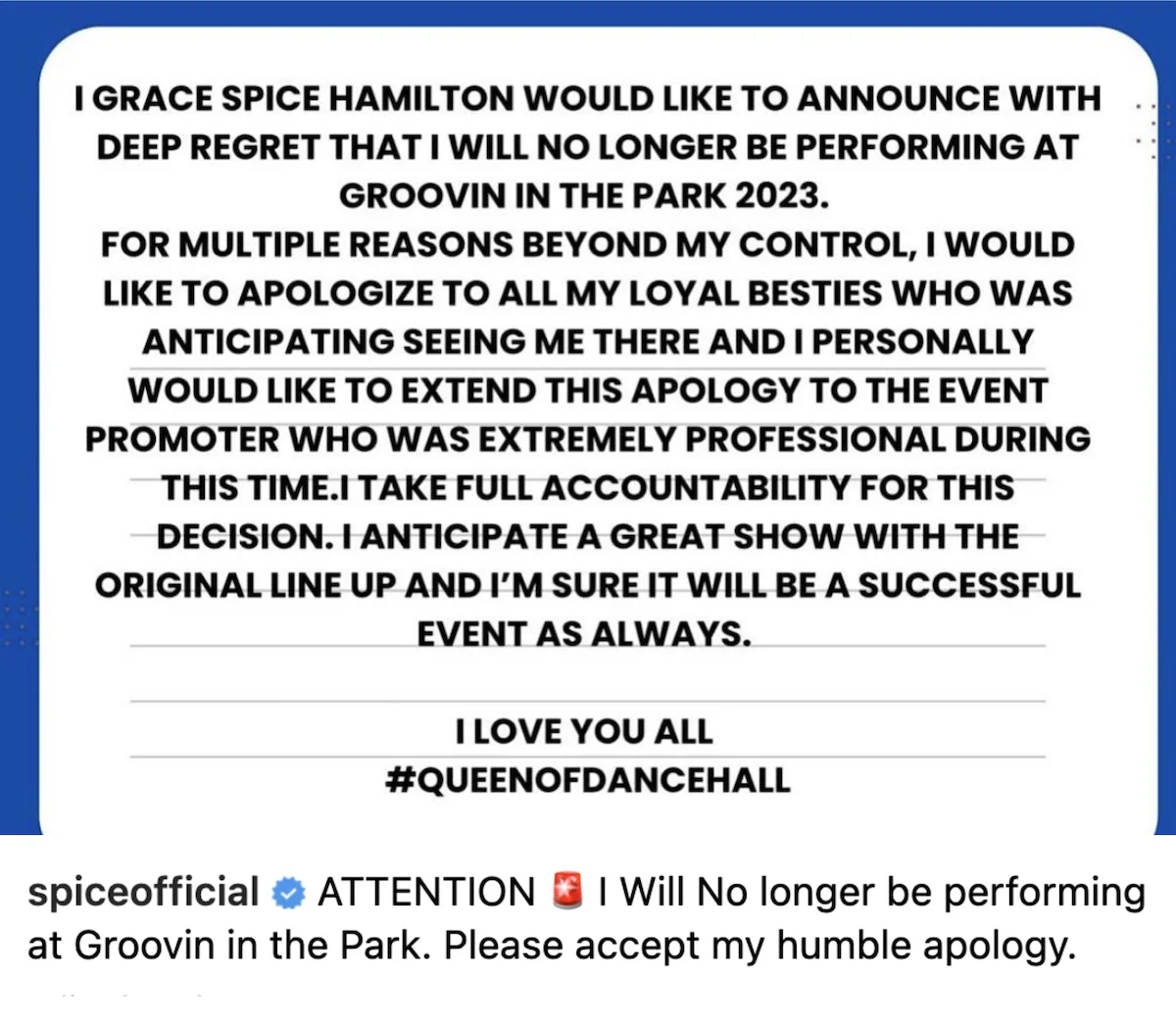 Groovin in the Park is a Reggae and R&B festival set for June 25th at Roy Wilkins Park in Queens, New York.
The event previously advertised Marion Hall, Tarrus Riley, Charlie Wilson, Cham, Wayne Wonder, Frisco Kid, David Rodigan, Bass Odyssey, Dynamq, Yard Beat, and others.
Spice's fans were quick to draw a connection to Hall performing at the event, causing Spice to pull out to avoid drama. Hall has recently returned to the dancehall space as an artiste, with her music not being gospel but not completely secular either, leaving fans confused about her religious stance.
She has also attempted to use Spice to drum up attention on her return to dancehall as she shaded the artiste recently over her decision to have plastic surgery.
Hall's behavior has drawn condemnation from others in the dancehall space, including Queen Ifrica, who called her out for picking on Spice and being shady towards the Love & Hip Hop actress under the guise of hosting sermons online.
Hall also caused many to call her out after she hopped online and offered prayers for Spice after news surfaced that the artiste was in a coma following complications from cosmetic surgery in the Dominican Republic late last year. Many felt that she was not being genuine for going live to discuss speculations about the artiste's health, especially since they are not friends and were publicly at odds.
Spice's fans also supported her decision to pull out of the festival.
"Set dem a set you up. Mi no wrong you," one fan said. "Let Marian stay home and put back spice kmdt. I somehow know this s**t was going to happen," another fan said.
"What away dem wah book yuh a groovin di park fi clash weh yuh nuh know bout eeh outtarda," another fan said. "Not going again my beautiful Spice won't be there," one offered.