Drake has revealed that he and Fabolous shared a close friendship as he gave the rapper his flowers for his influence on his career. Drake is known as someone who always gives credit where it's due, as he speaks highly of the day ones who welcomed him as a changemaker in the rap game.
Although he and Fabolous are artists from different genres, their careers have partially coincided, with Fabolous being just before the 2010 era while Drake experienced his most major come-up after that time. Still, it seems that Drake is sharing appreciation for the "Summertime Shootout" rapper, whom he credits as someone who had a major influence on his early career as a young rapper entering the game.
On Monday, Drake shared several photos of Fabolous from the early 2000s and gave the R&B artist his flowers.
"Wouldn't be anywhere without this guy real sh*t @myfabolouslife," Drake captioned a photo of Fabolous wearing a New Jersey Nets jersey, baggy white T-shirt, durag, and backward fitted cap. He added, "Was really just taking in how much you influenced everything for me."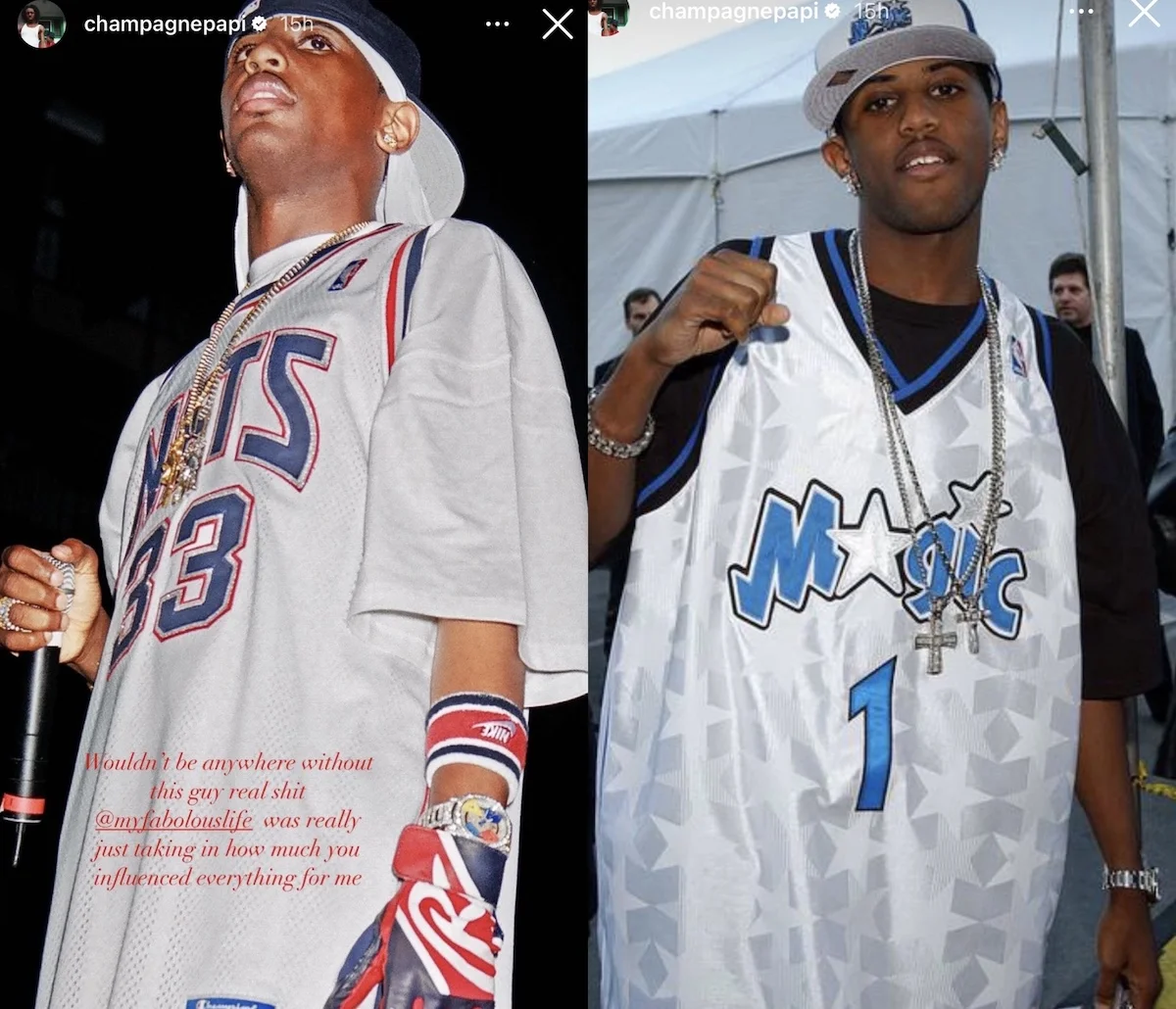 It seems that Drake was also speaking about the artist's fashion choices as he shared another photograph of Fabolous wearing an Orlando Magic jersey and matching cap and a cover of Smack DVD magazine from 2005. Drake also shared a photo of the band 112, captioning a photo, "also wouldn't be sh*t without this."
Fabolous also reacted to Drake's post resharing the Story with a gratitude emoji as well as the flowers emoji and a black heart. The New York rapper has been in the music industry for more than 20 years. The artist is known for his soulful music and lyricism. He first signed to label Desert Storm and saw his career taking off in 2001 with his debut album Ghetto Fabolous, a platinum-selling album with hits like "Can't Deny It" featuring Nate Dogg and "Young'n (Holla Back)."
The R&B artist saw further success in the mid-2000s with songs like "Can't Let You Go," "Into You," and "Make Me Better."
Despite his longevity in the game, Fabolous remains a successful artist, having collaborated with younger blood like Drake in the 2009 track "Throw It in the Bag," and on Chris Brown's star-studded "Deuces (Remix)" in 2010 alongside André 3000, Kanye West, Rick Ross, and T.I.