Jada Kingdom was not too happy when a music producer made a statement on Twitter about writing credits for her "Banana" hit song.
The writing credits to "Banana" was the topic for discussion last night, as a twitter user, Reggaeologist, Jada Kingdom and Tessellated traded words on Twitter. The month of November has not been the most peaceful for Jada. She has been getting into it with fellow entertainers all month, first starting with Shenseas and now the young producer who gave us the smash hit "Pine & Ginger."
The war of words started when Reggaeologist tweeted, For those that never know..a @Tessellated write Banana…yes @Jadakingdom banana dont it." Things escalated quickly as this sparked a sharp retaliation from Jada, who hit back with, "ARE YOU F**KING DUMB!!!??? or a clout unu a look? HIM WRITE WAH? WHEN? FI WHO? aye likkle p**sy! MOVE UP! doh triet wid mi!"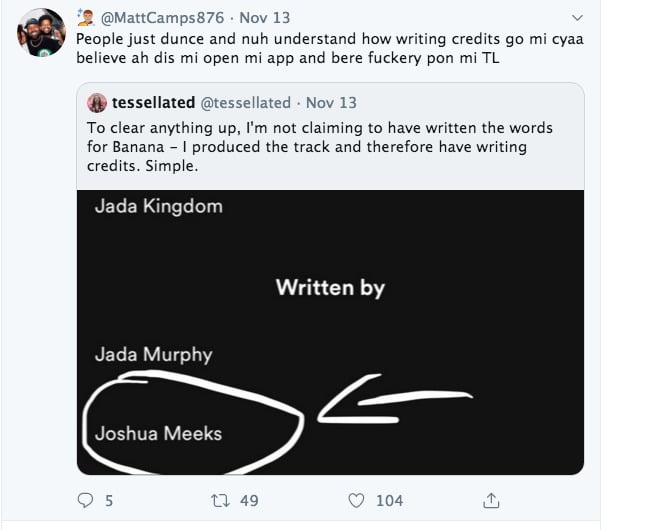 The young producer worked to straighten out things tweeting, "To clear anything up, I'm not claiming to have written the words for Banana – I produced the track and therefore have writing credits. Simple."
He provided clarification about the writing credits by screenshotting an image showing, Jada Murphy and Joshua Meeks, which are the names of Jada Kingdom and Tessellated respectively. He also denounced the various claims from Jada's fans that he was clout chasing, "I'm clout chasing by acknowledging the music *I* made? ? I'm done with this convo zeen."
Jada still didn't seem quite content in the response he provided, replying to Tessellated tweet with, "DAWG ARE YOU ON F**KING DRUGS!!!??? you sent the BEAT to me. You weren't there when i wrote the song, i wrote Banana from scratch why tf yuh wah come nuff up now? a who sen yuh? fr smaddy pay yuh fi come pon di media wid this crap?"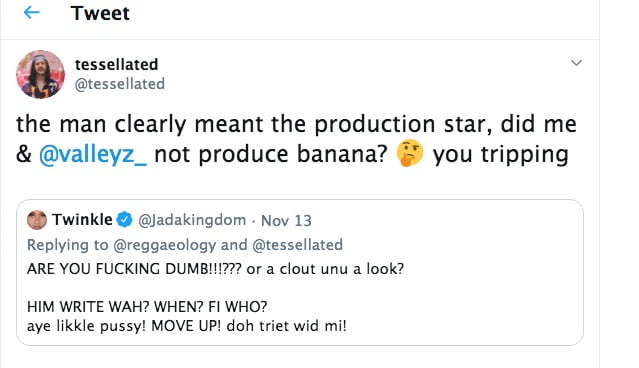 The topic attracted quite a few people with Reggaeologist chiming in to bring the longtime debate of artiste and producer relationship into question, "Uno see wid uno onna eye how artist deal wid producer..take man riddim and a try go round de man.. and all the man a ask for is his due credit."
The tweets and sub towards both Jada and Tessellated continued throughout the night.
The track for "Banana" does bear similarities to "Pine & Ginger," and the producer did receive credits. However, it was not something that was publicized.
With all the aggression stripped away, it is clear to see the whole conversation started out with the truth, but turned ugly due to a lack of understanding of song registrations and writing credits.