Popcaan posted the flyer of his upcoming Unruly Fest late Sunday, October 20, 2019. A lot of his fans are petty excited for the second staging of the festival with and one fan even welcomed the unification of the Unruly and the Vendetta camp. Sadly, it seems Popcaan was not having any of it.
The conversation in the comment section went like this, @Thereal_zico commented below the post saying, "@popcaanmusic suprised the ppl dem, bring in @manhimself (Alkaline) as special guest, am here for all positive vibes 2020, someone gotta be the bigger one #OneDancehall #OneJamaica." Popcaan replied to the fan, saying, "no fogs allowed… stop." It leaves one to wonder if Popcaan is trying to reignite the beef with the Vendetta camp. Or is he simply playing devil's advocate?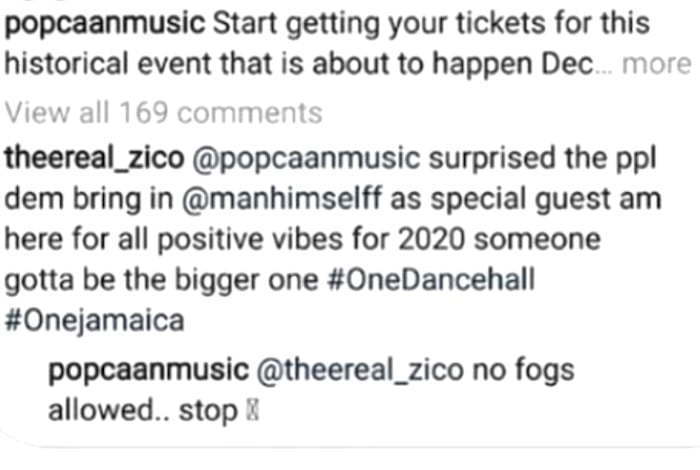 Alkaline kept his "New Rules" concert at the National Stadium Car Park back in 2017, Much to the delight of his Jamaican fans who had not seen him live since 2014. The energy in the crowd heightened by fans wanting to get a glimpse of the Vendetta deejay, which lead a stampede when it was announced that Alkaline was entering the stage. The rush caused the dismantling of the fence barring the general admission from VIP. Popcaan kept his first Unruly Fest last year in his home parish, St. Thomas. The fest was one of the most talked-about concerts in 2018, having brought out the likes of international acts, Drake and Torey Lanez.
The comment section got into it as both camps squared off, with many comparing the two artistes lyrical prowess and the turnout each got at the previous staging of their respective parties.
One person commented, "But if mi nah lie .. Alkaline show was 10x bigger than his last one even when he had Drake & Tory Lanez as an headliner." He was faced with a rebuttal that, "[Popcaan] sold out O2 in London."
Another commented, "Popcaan sold out because of drake Alka caused riot because his show was sold out as well. Don't forget.. Alka cut him own keys, and has less time in the business .. pressure dem fi di spite Alka."
Other comments were calling for the love in the dancehall, with some even calling Popcaan a hypocrite. It is mentioned that he called for more unity in the dancehall during a recent interview. However, he is now bashing Alkaline.
We all wait to see who will be featured on Popcaans Unruly Fest this December.