If you ever had any thoughts about actress and comedian Tiffany Haddish being in any relationships with rapper Chingy, now would be the time to wipe those thoughts from your mind.
The "Girls Trip" actress was recently on The Ellen Show. While taking part in the show's Burning Questions section, she revealed she and rapper Chingy were a homie-lover-friends item back in the early 2000s. The Muli-Platinum Recording Artiste, who brought us hits such as, "Right Thurr, " made it absolutely clear that he did not go right thurr with Tiffany.
He addressed the situation through his Instagram page, where he showed a clip of Haddish saying, "Chingy…I mean, it was a hookup. That was the early 2000s, y'all. I don't even know if that counts anymore," to Ellen's question about dating a celebrity.
"Now @tiffanyhaddish knows damn well that's a lie an since she lied I'm a tell the truth she use to hook up with my brother not me but she liked me," he wrote in the caption area. "Hey if we gone be honest let's be honest? #chingy #facts #juslikethat," he concluded. Sadly, heading to the rapper's Instagram won't show you the post as it has since been deleted.
The rapper was recently featured on BET's docuseries Finding, where is addressed some crucial mistakes and a huge scandal that saw his downfall. It seems the rapper is only focusing on positives this year. However, he just had to set things straight with this recent revelation by Haddish. "#TipTuesday invest in yaself. Stop waiting on people to do what you can do. Make ya next move ya best move. #chingology #chinglish #wisdom" is the caption below one of his latest Instagram posts.
He is also promoting his new single "Just Like That," which was released about 3 days ago.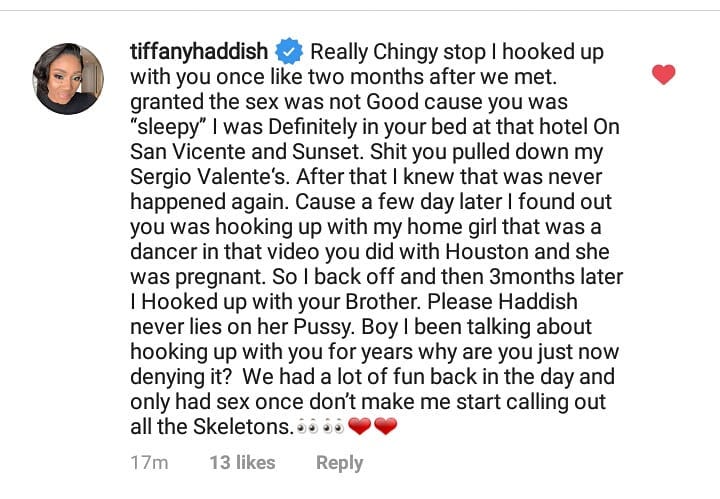 According to Page Six, Tiffanny Haddish clapped back by dishing out the details about their hookup. "Really Chingy stop," the actress wrote in the comments section of a now deleted post. "I hooked up with you once like 2 months after we met. Granted the sex was not good cuz you was 'sleepy.' I was definitely in your bed at that hotel on San Vicente and Sunset. S–t, you pulled down my Sergio Valentes."