Popcaan, Koffee, Chronixx, and Agent Sasco dominate Jamaica Prime Minister Andrew Holness' playlist.
Interestingly, reggae singer Nesbeth's mega-hit, "My Dream" is nowhere to be found on Prime Minister Andrew Holness' summer music playlist. PM Andrew Holness has now joined the Playlist Wagon by showcasing his Top 25 songs he has been listening to this summer. It would appear that the Unruly Boss Popcaan, Agent Sasco, and Chronixx are among his favorite artistes, as they feature heavily on the Head of Government's compilation.
"My Dream," which the Prime Minister took on as an anthem during the last General Elections, and played at every political rally, is missing from the list. Nesbeth had even been invited to perform the song at the PM's inauguration in Kingston back in 2016 and Holness, a St. Catherine High School old boy, had even joined the artiste on stage to sing along.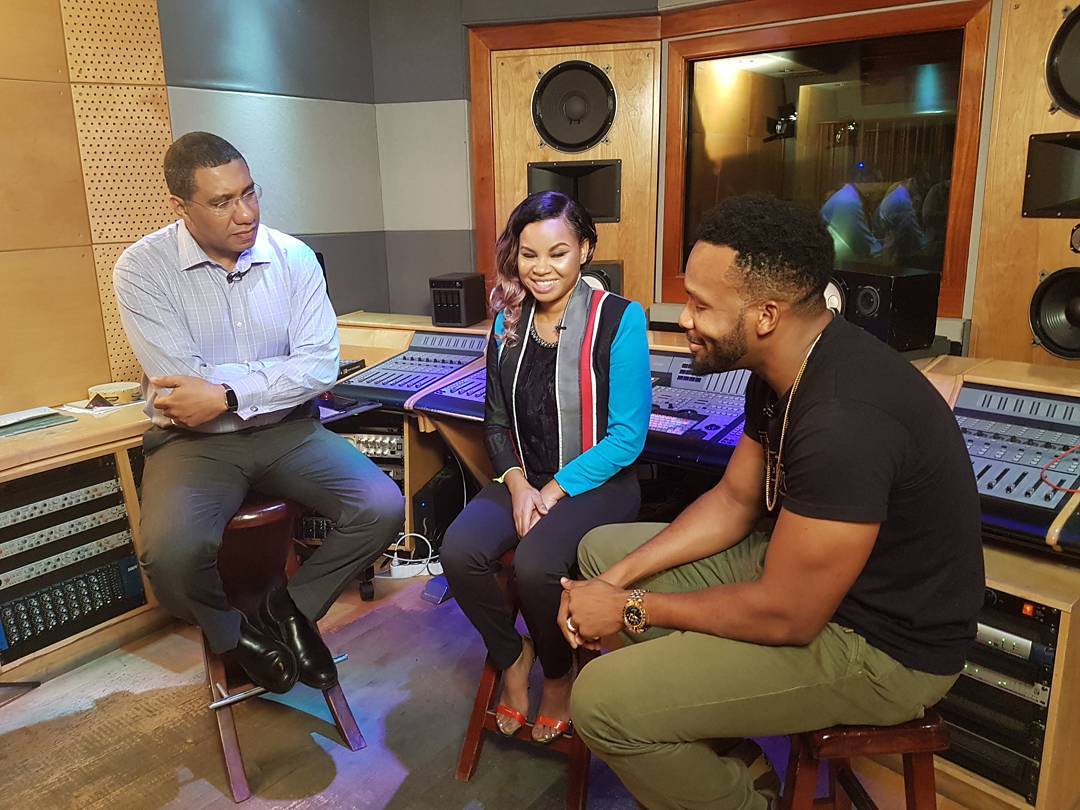 The PM shared his playlist with The Gleaner newspaper yesterday and, like his Entertainment Minister Olivia "Babsy" Grange has only Jamaican music on it. Within the list of 25 mainly uplifting songs, there was an anomaly in the form of Jada Kingdom's "Best You Ever Had" which would not find favor with Jamaica's Broadcasting Commission due to some raunchy lines. "I don't know why I feel like I need it But sure say it's the d*ck 'cause I'm compulsive…," she sings.
Nevertheless, the inclusion of Kingdom's song might not be unexpected as Holness had not been one to indulge in censorship of creative expression. On February 27, he told the Jamaica Observer newspaper that he would stand firm and not give in to any urgings from the public to censor any lyrics as this 'kills creativity.'
Andrew Holness' 2019 full summer playlist is as follows:
1. Winning Right Now – Agent Sasco
2. Banks of The Hope – Agent Sasco
3. Mix-up – Agent Sasco
4. I Can – Chronixx
5. Likes – Chronixx
6. Skankin Sweet – Chronixx
7. We Pray – Dre Island featuring Popcaan
8. Best You Ever Had – Jada Kingdom
9. Strongest Soldier – Jahmiel
10. Reggae Music – Kabaka Pyramid
11. Toast – Koffee
12. Dream – Popcaan
13. Inviolable – Popcaan
14. Family – Popcaan
15. Firm & Strong – Popcaan
16. Fade Away – Romain Virgo featuring Agent Sasco
17. Simple Blessings – Tarrus Riley
18. Mercy A God – Vershon
19. Glory to God – Wayne Marshall
20. Unanswered – Govana featuring Tarrus Riley
21. My Day – Tarrus Riley
22 . Just The Way You Are – Tarrus Riley
23. Rapture – Koffee
24. Can't Stop me Know – Singer Jay
25. Boasty – Wiley, Stefflon Don, Sean Paul & Idris Elba