Stevie J has sided with City Girls' rapper Yung Miami in her beef with his baby mama Joseline Hernandez and Hazel E.
Yung Miami got into a heated back-and-forth with Joseline Hernandez who is friends with Hazel E who dropped a City Girls diss track on Tuesday. Miami and Joseline have both threatened to put hands on each other on sight. Perhaps it's a good idea to keep these two ladies away from each other, at least for now.
Stevie J has since entered the conversation, and he has clearly chosen his side. It's no secret that he and his baby mama have been at each other's throats so it shouldn't come as a surprise that he decided to take Yung Miami side. The move might earn him some more baby mama drama, but it's a risk that he is willing to take, especially since he is still living in the reality TV world. All this drama may be useful for TV in the near future.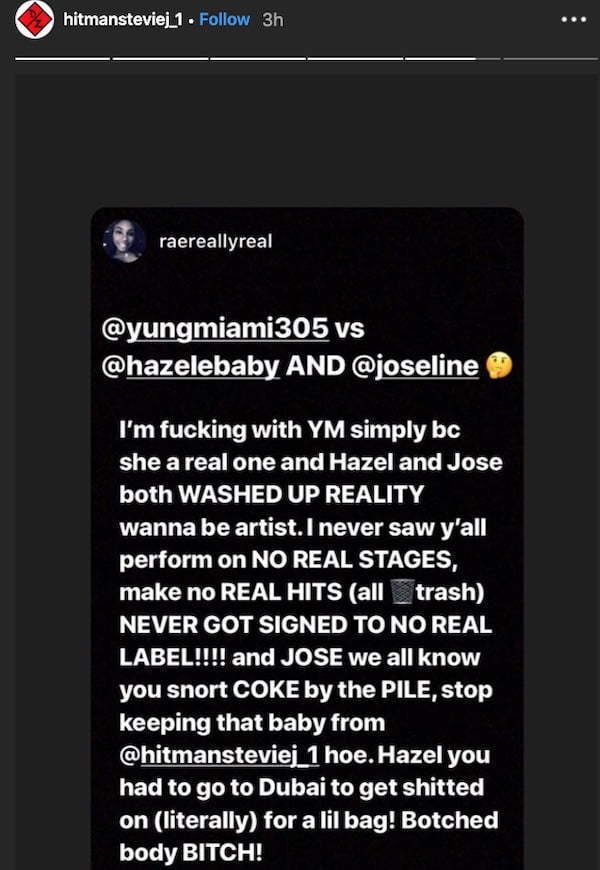 Stevie shared a statement from one of his followers, and it's clear where his head is at in the beef.
"I'm f***ing with YM simply be she a real one and Hazel and Jose both WASHED UP REALITY wanna be artist," the Love and Hip Hop: Atlanta star wrote. "I never saw y'all perform on NO REAL STAGES, make no REAL HITS (all trash) NEVER GOT SIGNED TO NO REAL LABEL!!!! and JOSE we all know you snort COKE by the PILE, stop keeping that baby from @hitmansteviei 1 hoe. Hazel you had to go to Dubai to get sh**ted on (literally) for a lil bag! Botched body B**CH!"