XXXTentacion has apologize to Migos' Takeoff after video surveillance shows that it was some different guys that attacked him.
The Lauderhill rapper posted a short video of some surveillance from the attack that shows a group of guys attacking him. Judging from their physical appearance, it was not Takeoff or any other members of the Migos clan. Seems Takeoff has already got word of the video and posted on his Instagram timeline, "No weapon formed against me shall prosper, he didn't say a it wouldn't form he said it won't prosper."
XXXTentacion then commented on the post saying he is sorry for calling him out during his video rants. "From the Bottom of my heart I apologize to you, you only caught in the cross fire of your blood line, blessings," he wrote. It's unclear now if this will squash their beef or if any further retaliation will take place. X has been having a rocky year with his assault case and his polarized music. During the summer, he was knocked out onstage by a rival artist in San Diego, and now this week he was attacked in Los Angeles where he was stabbed and beaten to a pulp buy some guys he first thought were aligned to Migos.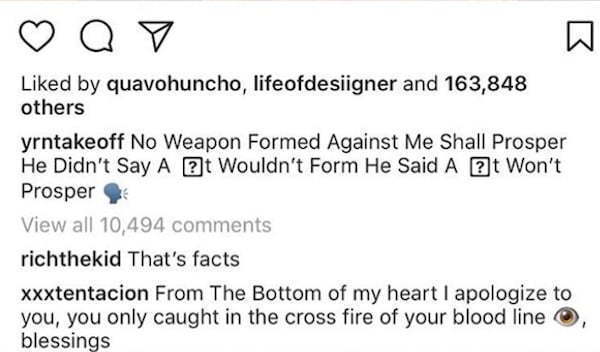 TMZ showed a close up photo of two of the assailants who attacked XXXTentacion and the were wearing Migos Gang chains but its unclear if they have any real connection to the Atlanta rap group. On the day of the attack, X posted a video of Takeoff and his security running away from him while he and his boys were yelling for them to stop and fight. X then blasted Migos, particularly Takeoff on social media for not giving him a one on one fight. Let's hope these guys squash this beef before someone gets seriously hurt.
https://twitter.com/RapSpotlightss/status/930706748452868096