There are a lot of rumors circulating this week that Wiz Khalifa signed young rapper Lil Uzi Vert to Taylor Gang.
We can confirm that the reports are false. Additionally, DJ Drama and Don Cannon have confirmed on Twitter that Uzi Vert is only signed to their label Generation Now. "Due to any confusion or contrary belief, Lil Uzi Vert is only "Signed" to Generation Now, LLC," Drama tweeted.
Multiple reports surfaced on Friday that Wiz has signed the Atlanta emcee to his imprint despite the Taylor Gang rapper not confirming the news. During a performance in Philly last weekend, Lil Uzi Vert called out Wiz Khalifa on stage where Wiz all but confirmed that the Uzi is now a solid member of Taylor Gang. "Taylor Gang, we got Lil Uzi Vert now, welcome to the motherf***in gang, ni**a," Wiz said on stage. "Thank you for bringing me out to Philly. Thank you for being the most influential young ni**a."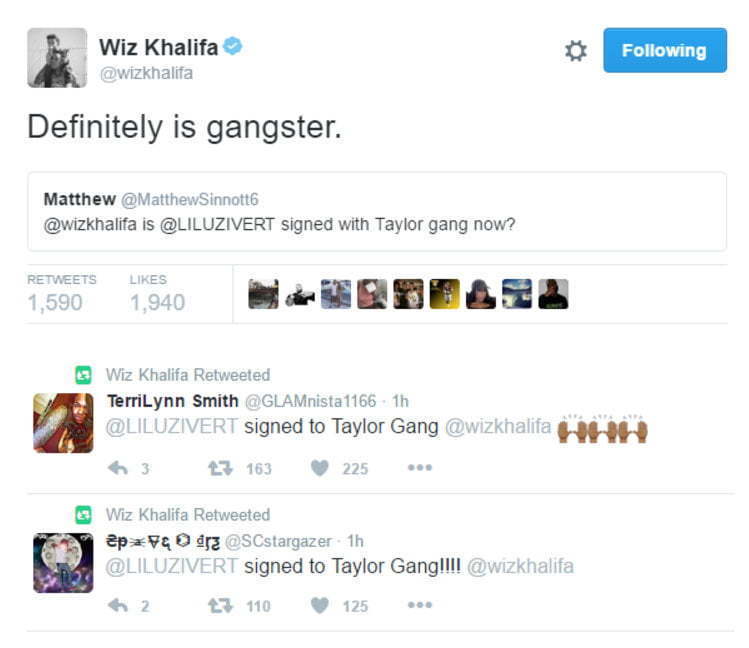 Shortly after the news broke, fans bombarded Wiz with questions on Twitter about the signing and his response was "Definitely is gangster." Lil Uzi also left some strong hints on Twitter about being a member of Taylor Gang. The deal was rumored to be through Atlantic Records but now there are a lot of confusions with these tweets from DJ Drama and Don Cannon.
Due to any confusion or contrary belief, Lil Uzi Vert is only "Signed" to Generation Now, LLC !

— DJ DRAMA (@DJDRAMA) December 30, 2016