Chris Brown and Odd Future's Tyler The Creator continue their Twitter beef this weekend with a war of words.
Footage of Tyler the Creator and Frank Ocean getting at Brown during a Cali show emerged online Sunday (June 19).
The feud was sparked yesterday when Chris Brown compared Odd Future associate Frank Ocean to James Fauntleroy and Kevin Cossum. Taking this as an "underhanded compliment," Ocean responded with a Twitter message of his own. He apparently felt the comparison to Cossum and Fauntleroy wasn't favorable, though the two acts mentioned have had some success in the music industry.
Before performing "She" with Frank Ocean, frontman Tyler, the Creator lamented about MTV banning the song's video while sharing his dream to one day win a VMA. But it wasn't long before the crowd reignited the fire, chanting, "F**k Chris Brown!" OFWGKTA members hurled insults ("He's a loser") at the blond singer and Tyler chimed in, saying, "He beats up women, he's a b*tch."
More on next page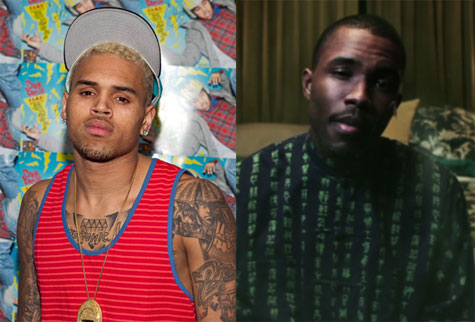 After compared to R&B newcomer Kevin Cossum over Twitter last Friday, Ocean went at Brown's head.
"i f*cks wit chris brown, reminds me of a young sisqo or ike turner," Ocean tweeted June 17th.
"i just dont like underhanded comments. thats all im saying." (Frank Ocean's Twitter)
Angered by the remark, Brown went on a Twitter tirade geared at Ocean and Odd Future.
"@frank_ocean it was a compliment you b*tch a** n*gga. Everybody claim to be the devil till they meet him."
"f*ck odd future! Make sure y'all smalltime n*ggas stick yo chess out when u speak to me,"
"Ain't no battery in my back! U just getting on a** n*ggas! Don't let them pills go to yo head!"
"I was tryna help yo sales n*gga. You fin clown! You and @ftyler would be casted great for planet of the apes!"
"I'ma shut up now! I ain't wit all this talking bullsh*t! I ain't hard to find. Y'all n*ggas know my face." (Chris Brown's Twitter)
West Coast rapper Game refereed the dispute and asked both sides to cease.
"@ftyler the homie & @frankocean just starting what can be a long successful career.. Don't f*ck it up by beefin'. FOCUS n*ggas, FOCUS !!!," he tweeted.
"@chrisbrown focus on "YOU" blood. BEEF aint gettin n!ggas nowhere these days. All you do is LOSE, endorsements, appearances & oppurtunities." (Game's Twitter)
See Tyler The Creator and Frank Ocean dissing Chris Brown on stage on next page.