. ..
Talk about balling.
Unlike Birdman and T-Pain, Jay-Z never film when he got his brand new $2 million Bugatti Veyron sport car.
Jay-Z, who recently celebrated his 41st birthday on December 4th received a $2 million dollar car from his wife Beyonce.
Well, what's $2 million to a couple that jointly earned a reported $122 million in just a year between 2008 and 2009 and they sit comfortably at the top of Forbe's highest earning couples list.
The couple are currently in Australia together, as Jigga tours with U2 and a waiter, who served them at a rooftop bar said the pair were just like an ordinairy couple.
He told The Herald Sun: "They sat together all night and were in no way prima donnas – there were no egg-white omelettes ordered, if you know what I mean.
"They looked like any normal couple yet are multi-million-dollar megastars . . . and they tipped well."
This is what a 2011 Bugatti Veyron looks like.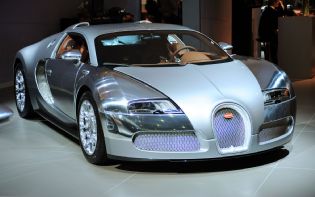 Your thoughts below