Vybz Kartel fans are a bit shaken after this video surfaced.
Gaza fans are very concerned after photos and a video of Vybz Kartel leaving the University Hospital of the West Indies (UHWI) in Kingston, handcuffed and under police guard, surfaced on social media. The video shows a slender, tall figure walking to a Correctional Services-branded minivan. He was clad in monochromatic white, with what appears to be a towel covering his face and sporting red and black sneakers.
A tall masked policeman armed with a rifle walks in front of him while three other men – apparently plainclothes police officers – stroll towards the vehicle. One was holding on to the artiste and guiding him to the bus. Several persons are seen walking towards the vehicle videoing the action as uniformed police officers try to stave them off.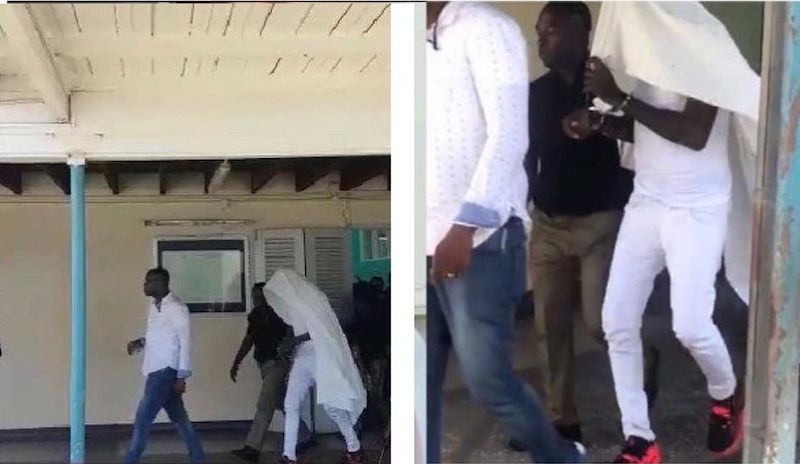 Interestingly while some of the commenters who viewed the posts wished the artiste good health, the majority of the remarks mocked his complexion which had returned to its natural dark shade. Some hostile persons even wished him death.
"See wha bleaching cause!!! Him darker than di black inna we flag. Yuck! Stop bleach," shaunnah said. "Nuh lighter him fi get weh him indoors, dem have you a work outsideee papa," celina said in mocking the deejay.
Kinglimeshibby tried to ridicule the Gaza Boss but only ended up being battered by a hailstorm of verbal attacks after he posted: "Man black yf. Hi obeah naw work nuh more." Another follower, 5thslice_untouchable seemed gleeful that the 43 year old artiste was under heavy manners. "A so you expect fi live. Come outta di yard every now & go back inna u cage bird man. U think a u run bout yah?" she said.
On the other hand, tryme_again54321 said Kartel was only facing his retribution for his actions. "This is just him getting the karma he deserves. He's a murderer and blood is on his shoulders!!! Y'all just hype him u cause he's and entertainer you all like. Kmt. Justice must be served," he said.
Fans may have good reason to worry about Kartel being in ill health. In September 2017, he was hospitalized at the UHWI, and in March this year he was again hospitalized with what was speculated to be a thyroid issue. Some fans like bibi_godbless speculated that the artiste was ill, thus the change in complexion, seemingly oblivious to the fact that Kartel was one of dancehall's darkest sons.
"If him sick with his thyroid and his kidneys he get dark because his body is not functioning properly," she guessed. "Hope him eating healthy n exercising coz wen you getting old u av to cut out certain things. Hope him stop the bleaching too co dat no good for him health either," latty272019 said.
There were some Gaza fans like attitude_ann who were overly dramatic. "The government gonna kill him," she declared. Others suggested that the artiste was coming from a music recording mission. "He coming from studio. Don't let them fool oonu," Idn473 said. 'Him just voice 10 song in deh," one woman, wrote.
Vybz Kartel, whose real name is Adijah Palmer, was sentenced in 2014 to life imprisonment for the murder of his associate Clive "Lizard" Williams. He is eligible for parole after 35 years.