Meek Mill may be secretly reacting to all the latest developments with Nicki Minaj including her reunion with Drake and her home burglary.
Nicki Minaj has been dominating the headlines this week, aside from Beyonce of course, with her reunion with Drake and Lil Wayne and now a big news coming out of her camp that her Los Angeles mansion was burglarized sometime this week. The Philly emcee has been getting roasted on social media since the photos of Nicki and Drake surfaced and there are no easing up in sight from both celebrity enemies and fans on the other side.
Since last month Meek Mill has been lights out on Instagram but there is another unverified account that is either run by his camp or giving him a bad wrap. "Guess Corny Ni**as Back In Style and take my slides off I bought u," meekmill.4 wrote on Instagram. Still unclear if this is coming directedly from the Philly rapper but the account has been posting some exclusive photos that could only come from inside his camp.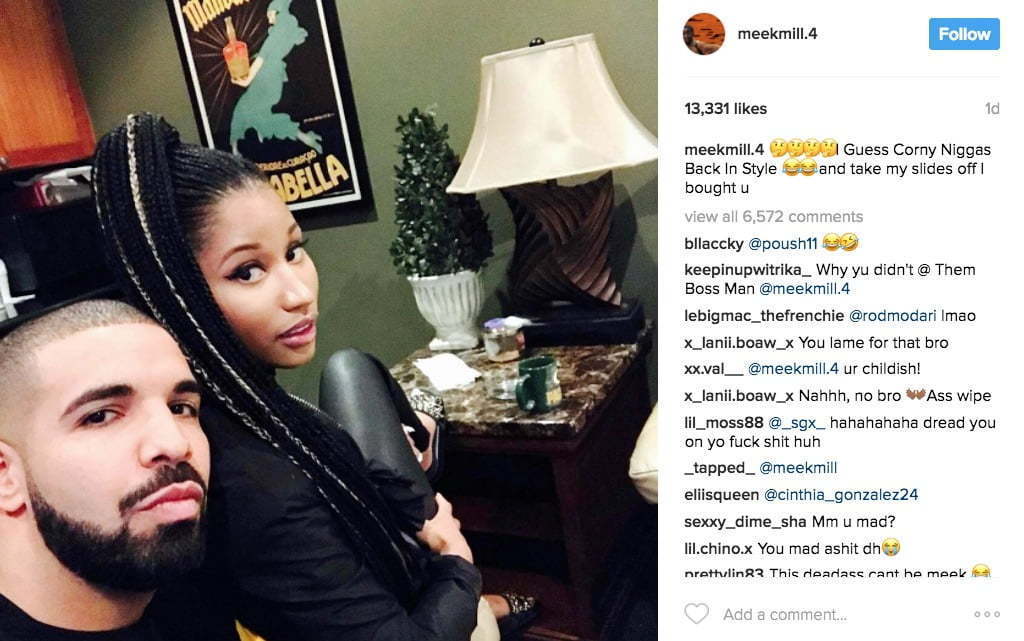 In his response to her home burglary, this is what he said about that "I wonder if they took the slides I bought her." Some $200,000 worth of items mostly jewelry were stolen during the home invasion, but fortunately, the Young Money rapper was out of town which makes it look like an inside job. Aside from these reactions on Instagram, Meek Mill has been radio silent on Twitter and that in a large part has to do with Drake infamous "Twitter fingers" line in "Back To Back."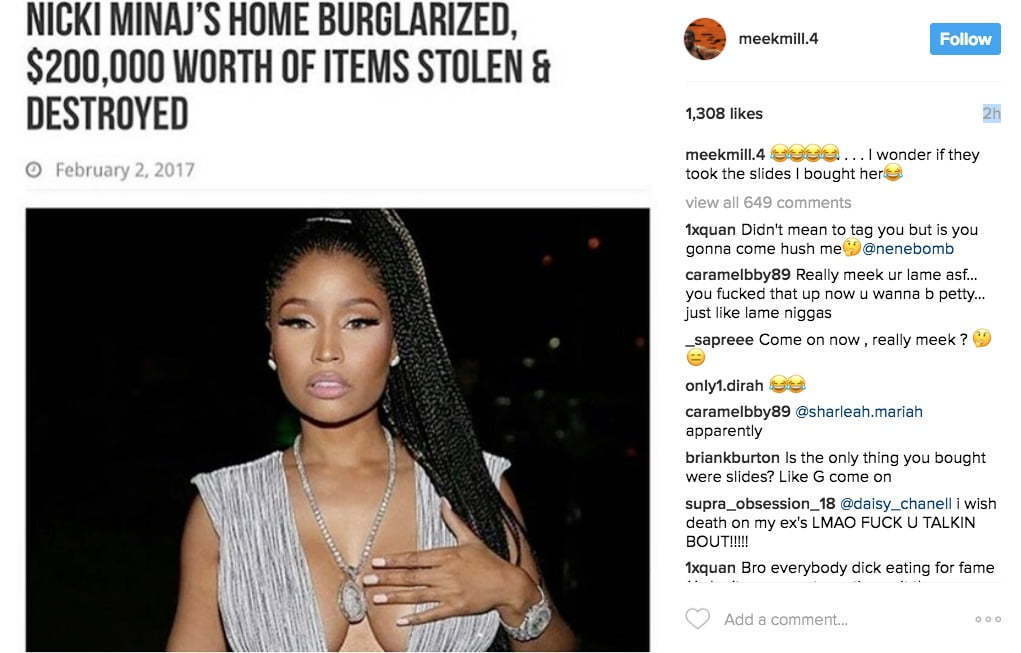 Some folks on Twitter are going as far as to suggest that Meek Mill knows something about Nicki Minaj's home burglary. "I thought I would be the only one that suggested Meek had something to do with this but apparently we all believe he did," one fan wrote.
https://twitter.com/NasirLeigh/status/827255919469735945
Nicki Minaj's mansion was robbed and $200,000 was reportedly stolen ? we already know Meek Mill got something to do with it !!!!!

— October 6th???? (@lilsh0rty702) February 2, 2017
So someone broke into @NICKIMINAJ house and cut up her clothes? Sounds like someone had a personal issue….. MEEK MILL

— ?ã????ñ?? ™ ?? (@Balldinho) February 2, 2017
Nobody stole from Nicki Minaj EVER until AFTER she broke up with Meek Mill. It's not a coincidence

— Austin Bogar ?? (@AustinBogar1) February 2, 2017
Drake posts a pic of himself with Nicki Minaj on Instagram, then the next thing her home gets burglarized. This has Meek Mill written on it.

— Loyiso Nxusani (@Loyiso_Eros) February 2, 2017