The Weeknd shelled out $25 million for a swanky new penthouse in Beverly Hills.
The Weeknd is reportedly the newest resident in the glamorous Los Angeles neighborhood of Hidden Hills. The superstar singer and songwriter dropped nearly $25 million on a new mansion that was designed with extravagant parties in mind, TMZ reported. The 12,000-square-foot property sits on three acres and includes nine bedrooms, eleven baths, and an eight-stall horse barn. The estate also includes a 1,200-square-foot guest house complete with two bedrooms and two bathrooms.
Perhaps most characteristic of The Weeknd of all, the property includes an entertainment pavilion, equipped with multiple bonfire pits and covered patio areas perfect for hosting memorable functions.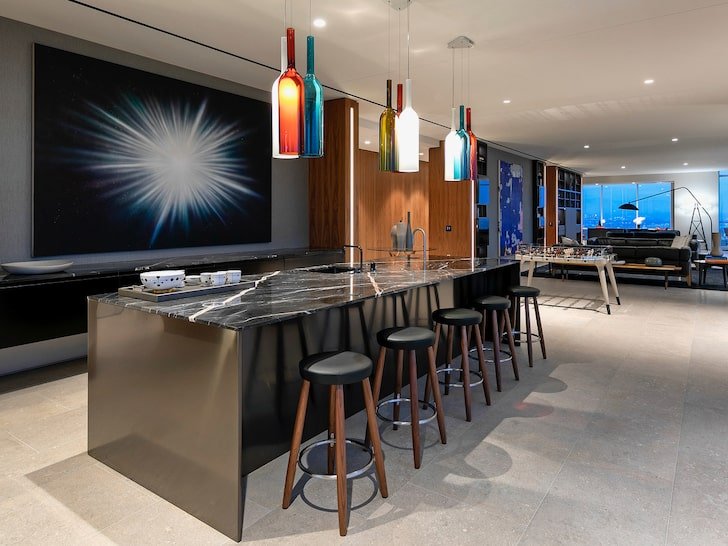 The Weeknd, whose real name is Abel Makkonen Tesfaye, has become one of the most successful Canadian recording artists of all time, already winning three Grammys and selling over 70 million records worldwide. It is no surprise that he was able to dish out the cash for such a decadent purchase. What is a surprise, however, is that the location of Weeknd's new home in only about a half-hour from the home his ex, Selena Gomez, purchased only days before. The couple broke up in 2017, but their homebuying habits have fans questioning a reconciliation.
The Weeknd's Instagram account was conspicuously deactivated in June. Now the page has popped back up without a single photo and a bio that reads, "loading…". The Weeknd is notorious for his mystery, and many fans have speculated that he might be gearing up for a new music announcement. However, now that we have all learned of his impressive new home, some social media users are wondering if he simply signed back on to show off his new party pad. Fans all agree that The Weeknd is long overdue for some new music, having dropped his last album, Starboy, in 2016.