Blueface dumped his two girlfriends just days after they got matching tattoos, but wait until you heard why he broke up with them.
Blueface recently appeared on the Breakfast Club with Angela Yee, DJ Envy and Charlamagne Tha God in an interview that covered his recent girlfriend drama and more. The 'Thotiana' rapper talked candidly about his polyamorous relationship, explaining that he used to go back and forth lying to both his girlfriend and baby mama initially but eventually integrated the relationships into one.
In the 25-minute video, the rapper said: "I'm kind of a dirtbag" when addressing his duplicity with these women in the beginning. He says the most stressful part was when both women had to adjust to seeing him with the other when they all came together. When asked about bedroom arrangements, Blueface said, "Yeah, we all in the same room. Everybody, we was all in together. Full-fledged team."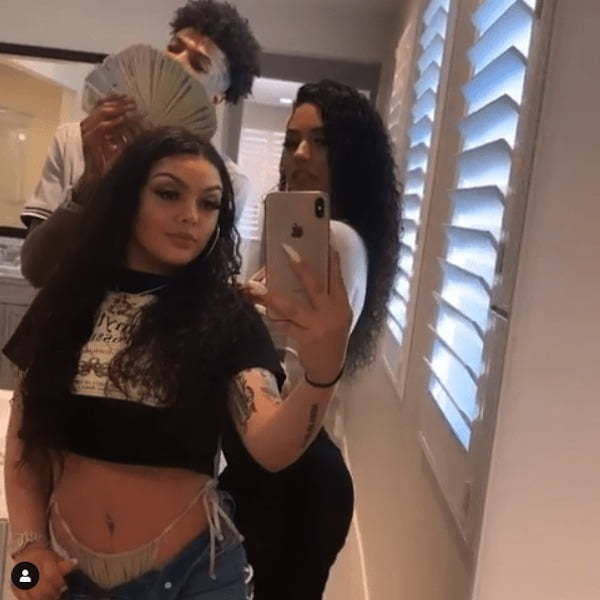 The rapper admitted that the relationship with his girlfriend didn't last long which the interviewers did not see coming. As if unable to believe it, Angela asked in a shocked tone, "You broke up?" to which the rapper responded, "We done man. Yeah. I still got my BM though, that's forever."
His now ex-girlfriend with whom he shares a matching tattoo of Benjamin Franklin on the back of their palm, recently appeared on his Instagram live with him and his BM when she admitted that she was 'here' for him and the money. According to the LA rapper, whether his ex's answer was a joke or not, he is not in the position to find out. Blueface explained in the interview what transpired on his live.
"My BM was like 'nah nah nah.' The other girl she just gave a bad answer. Could have been a joke, could not have been a joke like I said I'm not in the position to find out," he said. "If you ask a girl like 'Are you here for me' if she says anything other than 'Yeah, I'm here for you' then it's like OK."
Let's wait and see if these two will reunite. After all, it could have been a joke.