Bhad Bhabie drove more than an hour to fight Malu Trevejo and says that NBA YoungBoy created a group chat that instigate their beef.
The "These Heaux" rapper maybe 16, but at the moment she's trying to pass for someone half her age by picking playground fights. The teenager first became famous in 2016 when she declared, "Cash me outside, how about that?" on an episode of Dr. Phil. Once a gangsta, always a gangsta, as she is now spouting the same line to Cuban-American singer Malu Trevejo.
The feud between the two goes way back. According to Bhad Bhabie, whose real name is Danielle Bregoli, the "Luna Llena" singer has been talking nonsense about her for three years. Things escalated when NBA YoungBoy added them to a group chat together, and next we knew, Danielle was making her way to Malu's house in the middle of the night — an hour and a half away!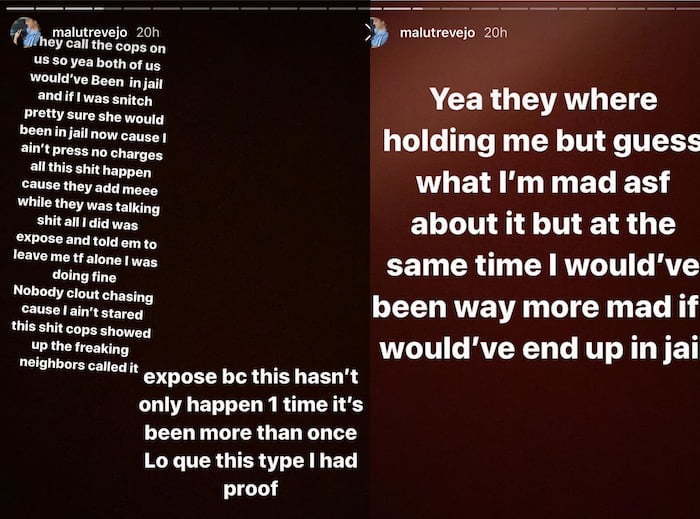 "Oh no, she comin', she comin', ooh, ooh wasting gas money on me," the Latin artist says on her Instagram. "But lemme tell you, dogs always come to me."
"She has talked sh*t about me for three years and she always say she gonna fight me and I'm here to FIGHT HER! Tell her come out the f***ing house!" Bhabie shouted to the 17-year-old's parents from the street outside her house. Understandably, Malu's dad threatened to call the cops.
Then, Bhabie's Insta… went blank. Did she delete the account? Was it stripped from her? We don't know.
What we do know is that Malu is happy she didn't get into it with the Boynton Beach girl. "They did call the cops on us," she said on IG. "I'm glad we didn't do sh*t because I would have been in jail, and she would have been in jail. And I'm not pressing charges because I'm not dumb… I'm not going waste my time on no f***ing body. I'm not going to do anything bad to anyone."
This is the second time this week that Bhad Bhabie has been in people's faces. After receiving accusations of cultural appropriation due to her box braids, the teen clapped back on Instagram, referring to black women as 'bald head hoes' and saying, "To all the black females that are saying my hair [ain't] meant for box Braids guess the f**k what y'all hair [ain't] meant to be straight but y'all glue whole wigs on to your heads and sew brazilian/Indian/ Peruvian hair which [isn't anything] like your natural hair texture at all."
Where the hell is this girl's momma?!