YBN Almighty Jay and Soulja Boy join forces to troll Tyga over Blac Chyna.
It seems like Tyga has a new beef to worry about with one of Blac Chyna's ex-boyfriends. YBN Almighty Jay posted a photo on Instagram of himself and Soulja Boy sharing a joke, but it's his caption that is grabbing all the attention. Not only did he took a shot at T-Raww, but he also used his son with Chyna. Not even kids are off limits in rap beef these days.
"Kaboom while your son in the other room," he captioned the photo while tagging Draco and adding some crying laughing emojis. Clearly, YBN is referring to Tyga and Blac Chyna son King Cairo. The rapper has since deleted the post after getting some backlash from some fans.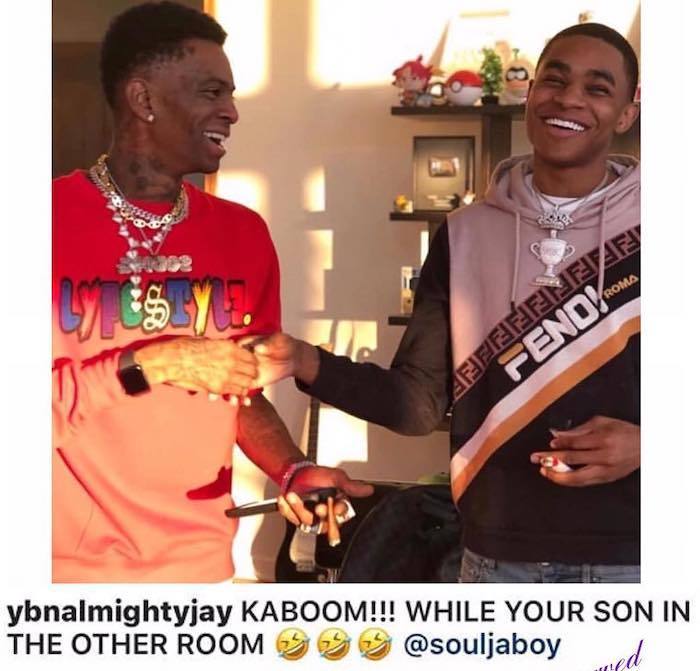 "I respect Tyga, but he needs to put this boy in his place. The disrespect for them both is crazy, Soulja lame and the other will do anything for clout," one fan wrote.
Another fan added, "That's what you get for being with these little kids so childish to bring that man's kid into this."
Almighty Jay and Blac Chyna dated last year for a couple of months before she dumped him. Meanwhile, Soulja Boy dated her for about two weeks before she also pulled the plug on their relationship. It appears it angered the SODMG rapper to the point that he started to trash both her and Tyga on social media.