An LA tattoo artist had some harsh words for Drake after he tattooed the rapper's name on a female fan's forehead last month.
The artist claimed in an interview, 'I didn't know who Drake was, I figured it was her hood or some sh*t, not some goofnugget R&B dude.' and later called Drake, 'the softest motherf*cker in hip hop'.
Drake obviously was offended by his statement and moved to let him know how he feels.
"'F*ck you' to that tattoo artist by the way because you're an a*shole for real. You should lose your job and never do tattoos again and I don't f*ck with you and if I ever see you I'm going to f*ck you up," Drake said.
Drizzy made good on his promise and rolled up at the tattoo artist shop last week and sent his security to send a warning. The tattoo artist gave an account of the incident.
"Drake sent his security detail into the shop to inform me that "nobody is going to hurt Drake in the state of California.". I don't remember ever saying I was going to hurt him, but maybe they were referring to his feelings."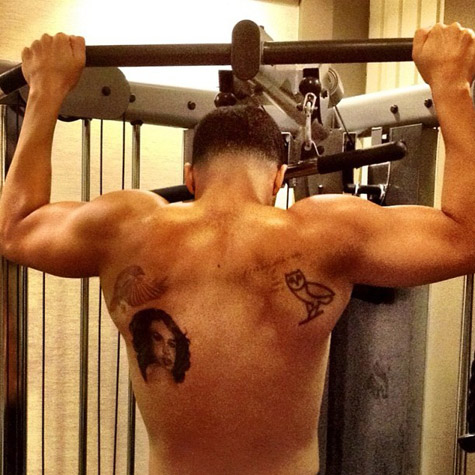 Drake's shows off his Aaliyah tattoo last month after tweeting this image of himself working out in the gym.
The Toronto rapper is preparing to launch his "Club Paradise" tour in Miami on Valentine's Day.