Troubled actress Amanda Bynes has turned her attentions to Rihanna on Twitter.
Earlier today Bynes suddenly started blasting Rihanna on Twitter calling her ugly.
This is what Amanda Bynes tweeted:
"@rihanna Chris Brown beat you because you're not pretty enough."

"No one wants to be your lover so you call everyone and their mother."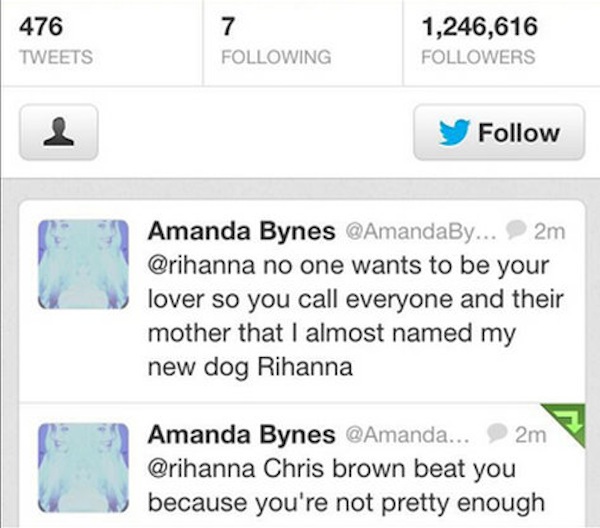 Knowing Rihanna, everyone thought she would go off on Amanda Bynes, but the Bajan pop star only responded with a simple tweet.
"Ya see what happens when they cancel Intervention?" Rihanna wrote on her Twitter page.
According to TMZ, Amanda Bynes, who was arrested in New York earlier this week for Marijuana possession, responded to Rihanna and then deleted it.
"@rihanna unlike ur fugly faced self I don't do drugs! U need the intervention dog! I met ur ugly face in person! U aren't pretty u know it!" Bynes tweeted.
Your comments below.